A Glance Through NTIPL'S Activities
Everyday evolving cloud computing and increased used of cloud infrastructure helping enterprises to explore new  horizons, streamlining processes and enabling a tremendous business growth.
CDR allows a business to store its business-critical data in remote and secure cloud networks so that the firm can bounce back and commence its activities as soon as possible to keep losses minimal.
Visitor Management System can help you clearly identify your guests with certain identity given to them  and fundamentally help your organization to restrict unauthorized visitors to enter in your premises.
Lightning arresters or surge arresters, since in this case the terms are somewhat interchangeable, are a device that is installed to protect homes, structures and power lines from dangerous surges of power.
In this today era of advanced technology of solutions & services, all Organizations are drastically evolving with their Business processes & hence always expect modern changes in the working environment.
In the current era of technological advanced solutions & services, generally all the sectors of communication & interaction have the platform to deliver & debate over a subjective topic.
Some real IT infra cases where NTIPL successfully served their esteemed customers with customised Solutions

The bank is a one of the leading co-operative banks in Mumbai and well-known in the banking industry for providing a wide range of Banking & Financial services.

The company is focusing on the digital transformation of the insurance companies and providing SasS suite offerings to the current and emerging insurance companies.

The company is India's largest consumer durables and home appliances manufacturer. The company is in to marketing of consumer durables and home appliances since 1934.

SAMCO Securities is a Mumbai-based online discount broking firm offering to trade and invest online in stocks, Equity Derivatives, Currency Derivatives, Commodity, Mutual Funds, and IPO.

Incorporated in the year of 2009, The company designs and develops software. The Company offers online Stock trading applications and stock market software, as well as they provide tools such as brokerage and margin calculator, option strategy builder and order generator.
NTIPL's Awards & Activity

NTIPL's Solutions & Services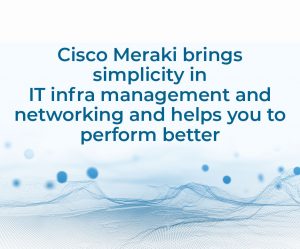 Cisco Meraki brings simplicity in IT infra management and networking and helps you to perform better.