Copy Data Management
Solutions for today's copy data crisis.Create, optimize and manage cocspies of production data.
Copy Data Management (CDM) is a relatively new IT category of solutions designed to manage the creation, use, distribution, retention, and clean-up of copies of production data — or "copy data." Copy data management (CDM) is an approach to reducing storage consumption that involves eliminating the unnecessary duplication of production data.  "Copy data" is the collective set of all data not currently being used in production (e.g., a snapshot, backup, vault, or replica of a version made for various IT or business functions—data recovery, Dev-Test, analytics or other business or operational functions).
The CDM category is growing rapidly because it resolves a multi-faceted IT problem:
Copy data consumes the majority of storage capacity and is growing at a multiple of the production data environment (as much as 20x)
Demand for access to recent copies of production data is soaring, driven both by traditional IT functions and by new business use cases
Until recently, there have not been central solutions to manage creating and distributing copies, leaving most IT organizations with a complex mish-mash of scripts and vendor tools without centralized control.
How CDM works
Most copy data management software works by creating one full virtual copy of the data. When unique changes are made to the production environment, the software creates and stores a snapshot of incremental changes at the block level. The snapshot mechanism creates a read/write differencing disk with a parent-child relationship to the backup copy without creating an entire new copy. Because write operations are not directed to the backup copy, administrators do not have to worry about the contents of the primary backup being changed by accident. Reducing the number of full copies also reduces the chance of server sprawl and has a positive effect on costs, because valuable storage space is not taken up with unnecessary copies of data.
The term copy data management captures production data, keeps a golden master current and spawns unlimited virtual copies for use whenever a copy of production data is needed. In a development, analytics or test environment, this approach is especially important; it means that the development, analytics or test environment can be based on an exact replica of the organization's production data without unnecessarily consuming storage space before it is needed.
Why copy data management is important
As storage capacity expands, it throws the need for copy data management into sharp relief. Data is growing at a steady rate, and unnecessary copies of data take up much-needed storage space. Storage virtualization has benefited backup and recovery, but the creation and storage of extra copies of data can be a pain point.
Because storing multiple copies and backing up often are standard data protection practices, it's no wonder that the number of copies can quickly grow out of hand. Efficiency and productivity can get bogged down by excess amounts of copy data, and for many organizations a lagging system won't cut it.
And all that extra storage space comes at a cost. Data storage isn't cheap, and the more storage capacity that is given to copies of data, the more money is wasted on unnecessary storage expenses. By eliminating extra copies of data, organizations can not only increase efficiency, but free up expensive storage space.
Copy data management benefits
Accelerate application release cycles; improve decision-making, and increase efficiency and productivity with fast, easy and self-directed access to copy data in the appropriate format.
Ensure compliance and mitigate security risks by having greater visibility into copy data usage.
Lower storage administration costs through centralized control, automation and orchestration.
Reduce storage costs by having the right number of copies of data with the right policies on the right storage.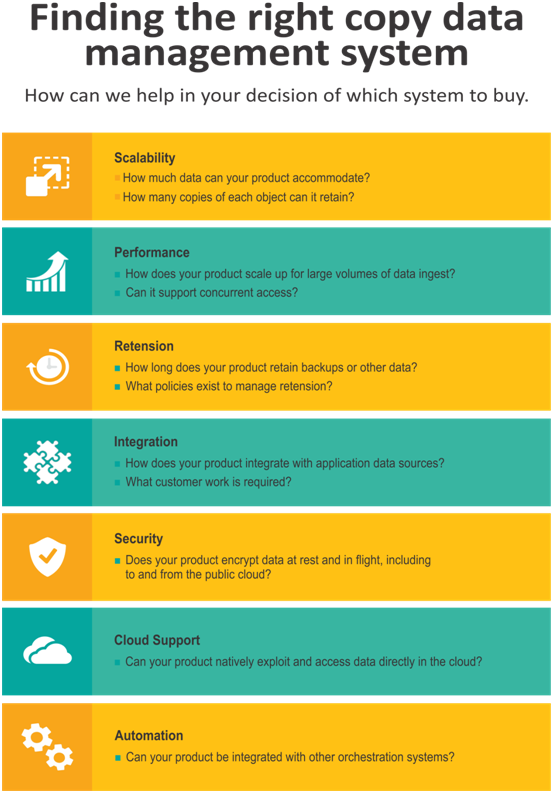 To learn more about Copy Data management or for a demo or understanding how NTIPL can help you in your CDM requirements please CONTACT US!