Give quick response to vulnerabilities and emerging attacks
With the number of increased cyber incidents and constantly evolving threat paradigm, many companies are setting up with Security Operation Centers i.e SOC. Technology officers are focusing on the human influence powered by technology.
Constant monitoring, analyzing of organizations' daily security position and detection of threats through strong set of processes and technology solutions makes your IT security robust from the other companies. Learning mechanism and effect of attack on the part of IT will definitely compromise the detailed information; it is possible with the help of the Security Operation Center placed at your company.
Security Operation Center (SOC) collects entire data from within the organization and relates with the information from external sources like news feeds, incident reports, threat briefs and vulnerabilities alerts; to get insights into susceptibility and helps in staying on the top of evolving cyber threats.
Why Security Operation Center?
At Network Techlab we help you to set up a Security Operation Center for your organization that strengthens your operations by increasing automation and helps you to improve response times. Customization allows you to get high quality data your SOC can use to simplify investigations and consistently identify, investigate and mitigate risk of threats.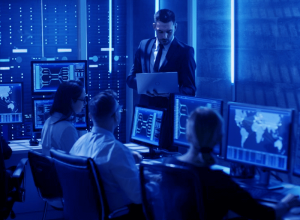 Check out where we deployed already
Checkout  who has setup thier Security Operation Center