Conventional Data Center Solutions
For most Data Centers, approximately 70% of the operating budget is spent on maintaining existing infrastructure while only 30% is for innovations aligned to the business goals. Your challenge is to reverse that allocation and transform your data center into a strategic business asset. Improving/Reducing deployment time and gaining real-time visibility to power, cooling, space & connectivity enables you to reduce operational expenditure (OpEx) spent on day to day operations and more on strategic innovation, optimizing capital expenditure (CapEx).
We provide end-to-end solutions for the development of entire Data Center Infrastructure which includes Space Management, Electrical System Designing, Effective Cooling System, Accurate Infra Monitoring System, independent Fire Detection and Suppression Systems.
Our Data Center Approach:
Features that you need to develop, manage, monitor and control your critical infrastructure with ease are mentioned below: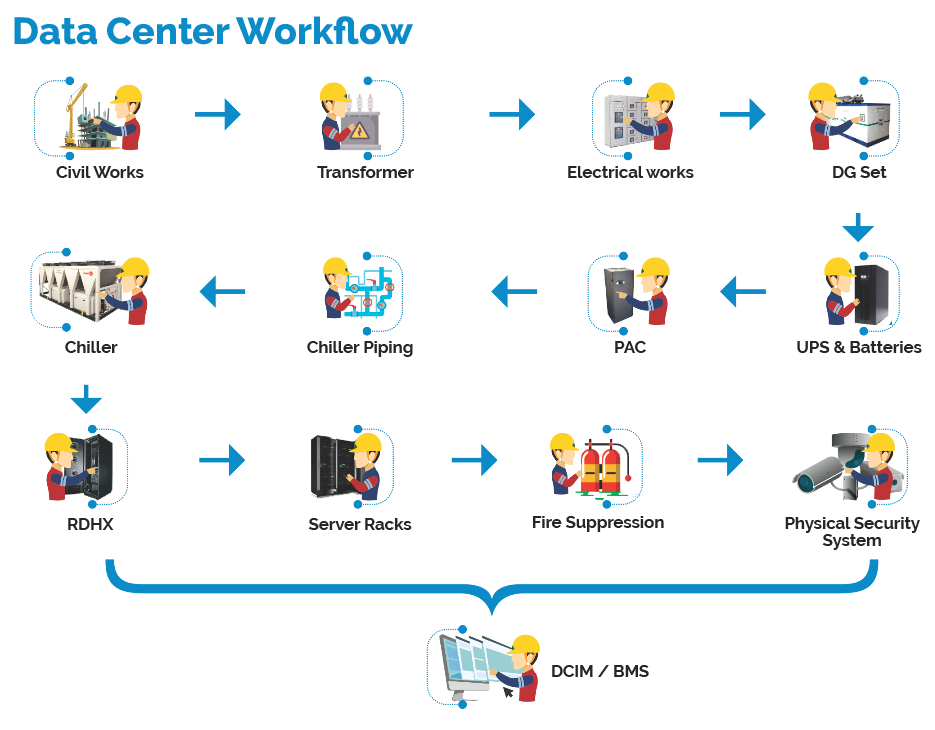 Data Center Tier Classification:
| | | | | |
| --- | --- | --- | --- | --- |
| Tier Requirement | Tier I | Tier II | Tier III | Tier IV |
| Source | System | System | System | System + System |
| System Component Redundancy | N | N+1 | N+1 | Minimum of N+1 |
| Distribution Paths | 1 | 1 | 1 Active and 1 Passive | 2 simultaneously active |
| Compartmentalization | No | No | Yes | Yes |
| Concurrently Maintainable | No | No | Yes | Yes |
| Fault Tolerance (Single event) | No | No | Yes | Yes |
Tier I – Single Path for Power and Cooling distribution, no redundant components – less than 28.8 hours downtime/year
Tier II – Single Path for Power and Cooling distribution, redundant components – less than 22.0 hours down time/year
Tier III – Multiple Power and Cooling distribution paths, but only one path active, redundant components; concurrently maintainable-Less than 1.6 hours of downtime/year
Tier IV – Multiple Power and Cooling distribution paths, redundant components, fault-tolerant – less than 0.4 hours of downtime/year