Largest Home Appliance Company enables better communication with IP PBX System, delivering faster and accurate response to customers.

Network Techlab successfully deployed an IP PBX Solution at Largest Home Appliance Company. Enabled collaboration within internal and external resources.
Organization : Largest Home Appliance Company
Location : Mumbai
Domain : Manufacturing
Solution Offered : IP PBX Solution
Product : Alcatel-Lucent OXO Connect
Overview:
The company is India's largest consumer durables and home appliances manufacturer. The company is in to marketing of consumer durables and home appliances since 1934. Over the years company has expanded into textiles, chemicals, sugar, automobiles, engines, nylon tyrecords, automotive components, edible oils, heavy chemicals (fertilizers), engineering foundries, sewing machines, fans and home appliances. Company other products include Sewing Machine, Appliances, Hoods & Hobs, Power Products, Water Coolers, Auto Components, water lifting pumps etc.
The company has their corporate office in Mumbai and wanted to setup an IP PBX system in their office premises. The existing system wasn't working well and need to be replaced by new system in order to streamline Business communication services.
Challenge:
As the company was growing their operations, number of users also increasing by time. The existing PBX system was unable to sustain in the growing environment. Also, the company was facing issues in the existing PBX system and they wanted to replace same with new age PBX System. The company wanted to setup communication server and help their users with a robust business communication tools for internal and external communication purpose. The company has a lot of internal and external communication, taking place daily and users need to respond customer request in order to share information faster and more accurately.
Solution:
Network Techlab involved with the company's team and designed a complete architecture. This architecture design presented to the company and further we started deploying a proposed solution. We supplied all necessary bill of material required in this project. In order to setup above discussed services our team has suggested and deployed an Alcatel-Lucent Technology.
The Alcatel OXO Connect platform that is ready for cloud and at a heart of many SMB companies for their unified communication service needs. The proposed solution is scalable for Rainbow cloud service that enables all users for a seamless unified communication with Video Calls, Share and Chat Facility. Enhances experience of off-site users for mobility and keep them connected anywhere, anytime. Single network infrastructure of Voice and Data enables Cost Saving and simple voice mail greetings enrich the customer experience over a call.
Benefits Achieved:
Reliable communication tested from Phone to Cloud
Enables cost saving and remote management
Enhanced collaboration within internal and external resources
Streamlined Operations and delivers better Customer Experience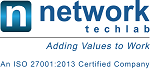 Network Techlab (I) Pvt. Ltd.
41, Sarvodaya Industrial Estate, Opp. Paper Box, Off. Mahakali Caves Road, Andheri East, Mumbai – 400093. India
P: 022-6681 4141 | info@netlabindia.com | www.netlabindia.com
Mumbai | Navi Mumbai | Ahmedabad | Vadodara | Vapi | Pune | Bangalore | Chennai | Goa | Delhi | Kolkata