Leading Digital SaaS company streamlined their operations and reduced cost by deploying fiber connectivity.
Network Techlab successfully deployed a structured cabling project for a Leading Digital SaaS company.                            Streamlined the operations and provided connectivity 24×7.
Organization:
Leading Digital SaaS Company
Location
Mumbai
Domain :
Technology
Solution Offered:
Structured Cabling Solution
Products:
Fiber Cables
LIU
Patch Cords
Trans-receiver
Overview:
The company is focusing on the digital transformation of the insurance companies and providing SasS suite offerings to the current and emerging insurance companies. They have successfully transformed over 40 insurance carriers to digital ecosystem and enabled them for the digital sales. The company's mission is to mission is to deliver measurable business outcome by combining their domain knowledge, solution architecting expertise, Functional IP's, Technology Solution Accelerators and global best practices.
Being in to a Digital Solution provider for the insurance company, company themselves believes in a strong technology and hence they wanted to automate their operations in the new branch location where they have started their operations. The company wanted to setup a fiber connectivity within branch locations and streamlining the operations.
Challenge:
The company has opened their another corporate office at different location which was located in the same campus but at another building. In order to streamline the operations, they wanted to setup LAN, WiFi Network, Surveillance and Voice Services at another location. Company needed a fiber connectivity for its branch location. The main server was located in existing location and company has to unnesseraily pay additional cost to the ISP to run above services. In order to save the cost and bring operational flexibility company wanted to setup an fiber connection between the premises.
Solution:
Network Techlab involved with the company's team and designed a complete architecture. This architecture design presented to the company and further we started with deploying proposed solution. We supplied all necessary bill of material required in this project. In order to setup above discussed services our team has deployed a fiber connectivity between both locations and saved on the cost of additional ISP line. Our team has taken care of minimum impairment and maximum use of fiber connectivity.
Solution provided to the company helped them in streamlining operation and services such as a Surveillance, User Data and Connectivity, Access Control and Time and Attendance Systems. The solution enabled company to reduce the operational cost associated with above mentioned services and also helped in time saving.
Benefits Achieved:
Saved Additional Cost of ISP
24×7 Connectivity maintained within locations
Reduction of IT Resources and Dependability
Streamlined Operations within locations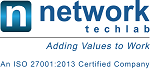 Network Techlab (I) Pvt. Ltd.
41, Sarvodaya Industrial Estate, Opp. Paper Box, Off. Mahakali Caves Road, Andheri East, Mumbai – 400093. India
P: 022-6681 4141 | info@netlabindia.com | www.netlabindia.com
Mumbai | Navi Mumbai | Ahmedabad | Vadodara | Vapi | Pune | Bangalore | Chennai | Goa | Delhi | Kolkata
Wan't to discuss your project? Contact us Today.