Network Techlab helps SAMCO Securities in setting up sustainable printing infrastructure, helps in enhancing printing quality and speed.
SAMCO Securities increased productivity by printing documents seamlessly without any interruption.
Organization :SAMCO Securities Ltd
Location :Prabhadevi, Mumbai – 13.
Domain :Stock Brocking Company
Solution Offered :Canon IR 2006N (Printing Machine)
Overview –
SAMCO Securities is a Mumbai-based online discount broking firm offering to trade and invest online in stocks, Equity Derivatives, Currency Derivatives, Commodity, Mutual Funds, and IPO. Incorporated in 2015, SAMCO is known for its ultra-low brokerage, unique margin products, and free trading software.
Most of the office users in the company look at printers as a necessity. After all, how else do you get your important documents in a "usable" format? SAMCO Securities inquired us for a suitable printing machine that can enhance their document printing and deliver  more productivity & accuracy without interrupting their time value of working hours.
Challenges –
Some of the challenges company faced with their existing facilities.
Lower output of their present printing machine.
Frequent Errors while printing of documents.
Low productivity during desired hours & production time.
Menial Image quality due to low cartridge system.
Why Innovation was required / Solutions offered –
Document printing & managing together on time was the major concern occurred during Business peak period. As the present scanner which Samco Securities was owning has given some tentative issues probably during the bulk quantity printing of documents. As organization is into the sector stock bricking wherein the major paper document work is conducted, they required a suitable ongoing printing machine was needed at the earliest. Thus, with our segmented approach & proper coordination, we have provided them the solution which they can utilize simultaneously along with best service support.
Conclusion –
SAMCO Securities has been highly enhanced with their printing infrastructure & now are happier with the solution being provided. They have found suitability on the following basis –
Low operational input.
Cost effective product.
Increase in number of printing capacity.
Convenience as per the requirement.
Helpful features with customization.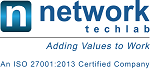 Network Techlab (I) Pvt. Ltd.
41, Sarvodaya Industrial Estate, Opp. Paper Box, Off. Mahakali Caves Road, Andheri East, Mumbai – 400093. India
P: 022-6681 4141 | info@netlabindia.com | www.netlabindia.com
Mumbai | Navi Mumbai | Ahmedabad | Vadodara | Vapi | Pune | Bangalore | Chennai | Goa | Delhi | Kolkata