Common Problems with Legacy Data Protection Solutions
Digital transformation has fundamentally changed the IT landscape, driving up the diversity of applications and devices, which in turn generates data at volumes not seen before.
Businesses today are using data as a leverage point to increase revenue and profits, in order to improve the business operations or making better decisions is based on better IT infrastructure and data availability.
This data is literally the heartbeat of businesses today and companies must protect digital data from loss/corruptions
Historically companies have adopted a calculated and universal solution for data protection but with the tremendous growth of data, the ability to protect that data and ensure a clean recovery for access to that data in the event of a loss has become more and more questionable.
Businesses are facing a wide variety of issues by not modernizing their backup and DR strategies.
Here are some of the issues generally faced by businesses:
Long Backup Windows – The traditional model of full and incremental backups becomes unmanageable as data sizes grow and full backup windows extend beyond SLA requirements. To make matters worse, these lengthy backup windows can impact application performance as well.
Slow Recoveries – While backup windows are important, it's a recovery that really matters. After all, if you cannot recover your backups then why have them in the first place? To make matters worse, lengthy recovery windows can materially impact business operations, customer experience and typically revenue. Users need to find new ways to accelerate recovery of even the largest files to minimize impact when outages occur
Disaster Recovery Challenges – Data is even more critical than ever to today's businesses and so users have to plan for both local backup and recovery and disaster recovery. Traditional backup and recovery methodologies create significant DR challenges due to restoration complexity and windows. As a result, many companies limit their focus on DR and if they do focus on it, tests are run infrequently. This leads to unreliable DR plans and processes and a significant risk that businesses will not be able to recover from a DR event if one were to occur.
Multiple RPOs – Different applications mandate different recovery point objectives which typically results in multiple different protection tools. As a result, users struggle with many point solutions adding in cost, in management and reduction in reliability.
Very Large Database Protection – All of the challenges of backup and recovery are amplified with very large database. These data sets are typically critical for business operations and so the impact of lengthy backup windows and painfully slow recoveries can be significant to business operations.
Tape Trouble – Low confidence in tape backup for long term data retention and data access.
There are constant concerns about the lack of access and loss of data. Businesses spend a lot of money each year on traditional solutions that, when tested, often fail to meet minimum point and time recovery standards. Enterprises today are at a point where emerging technologies are helping provide options to modernize their data protection strategy. With so many data protection issues facing businesses using legacy systems, it's time for business and IT leaders to make smart strategic decisions to upgrade their data protection strategy. This decision will protect the lifeblood of their business.
These factors make data protection more challenging than it has ever been. Unstructured data growth, increasing adoption of virtualization and public/private cloud architectures, broadening compliance regulations, IT modernization initiatives and ever more aggressive service level agreements are all contributing factors. Meanwhile, organizations are demanding reduced risk, downtime and expense from their data protection teams.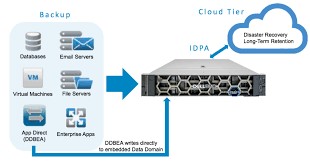 We at NTIPL provides the Dell EMC IDPA a pre-integrated and converged data protection appliance designed to reduce or eliminate the time and complexity associated with deploying a comprehensive data protection solution.
IDPA provides complete protection for diverse applications and ecosystems and comes with optional long-term retention, plus optional Cloud Disaster Recovery for restoring business critical data in the event of a disaster.