Premium Rack Solution for Rapid Deployment
Standardise Your Deployment Around The World
The Vertiv™ VR Rack family delivers a premium rack solution with best-in-class design and construction, and comprehensive features and accessories, all at a price point at or below comparable products. Available in eight standard sizes with load capacities of 3,000 pounds static and 2,250 dynamics, all models feature a frame design that delivers about 2.5 inches of additional useable depth compared to competitive racks. With a fully stocked inventory of high-density racks and accessories, Vertiv can ship the Vertiv VR Rack quickly to keep pace with the rapid expansion of edge computing.
Robust engineering and construction
Load capacities of 3,000 lbs. (1360kg) static, 2,250 (1022kg) dynamic
Supports all rack-based equipment
2.5 inches more useable depth than similar sized racks
Full complement of cable management and airflow management accessories
Tool-less roof and adjustment of EIA rails
77 percent perforated door for improved airflow
Split side panels
Tool-less design for easy equipment installation, adjustments and service
Optional 2000lbs. load rating shock packaging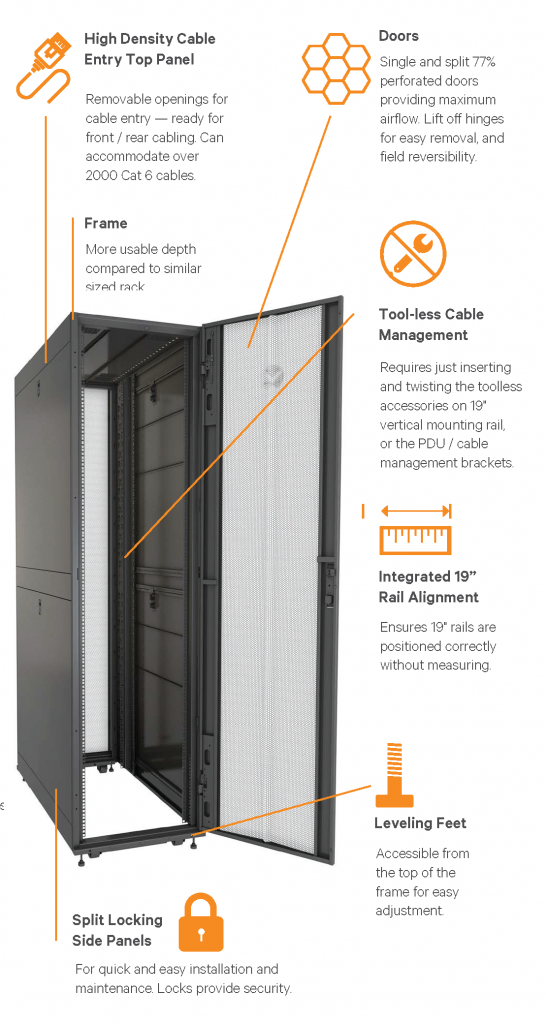 RAPID DEPLOYMENT
With extensive inventories around the globe, the Vertiv VR Rack is available for quick shipment to enable your rapid deployments. As demand for IT systems grows from hyperscale facilities to the edge, long delays in deployment cycles are not acceptable. The Vertiv VR Rack is available where and when it's needed.