Is your Video Conferencing Solution even effective enough for large meeting / conference rooms ?
Video conferencing allows users from two or more different locations to conduct face-to-face meetings without meeting together at a single location. This technology is especially suitable for business users at varied locations as it saves time, expenses and inconvenience associated with business travel. Video conferencing is useful for meetings, business deals and interviewing job candidates.
NTIPL has a perfect Video Conferencing solution for businesses, it is one of the best VC solutions for large room i.e. Logitech Rally Plus. It allows you to start your meeting with just one touch. Upgrade your large/spacious room meeting experience with big screen video, outstanding color and exceptional optical accuracy. AI based human figure detection and automated PTZ, Rally adapts to meeting dynamics and keeps the camera on the action. Rally's ultra-low distortion speakers deliver crystal clear, room-filling sound and ensures voice is clearly heard.
Simple to Set Up:
There are 3 different set up modes offered by Logitech Rally Plus;
UDB Mode: Plug and play Rally Plus with any Mac, PC, or USB via Chromebox.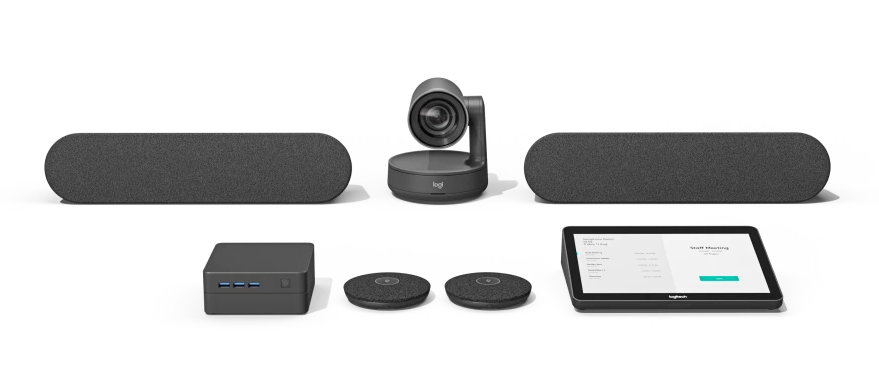 Install Rally as a room system appliance with Logitech RoomMate, a computing appliance meeting room computer purpose-built for video conferencing.

Keeps components and cables organized, neat and secured. Two hubs for the table and display are connected by a single CAT6 cable provide clean installation.

Manage and monitor your meeting room devices from a single platform with Logitech Sync. Plus, also get business insights of how your room is being used.
Explore Logitech's gracefully simple, next generation of large, medium and small room solutions that can be deployed in PC or appliance mode. It supports remote workers and reduces business travel by replacing in-person meetings with video meetings that are as natural as face-to-face.
For hassle free, smooth and convenient Video Conferencing solution especially designed for large and spacious conferencing or meeting rooms. Avail these benefits for your Organizations conference rooms.
Get in touch with us for more details:
WhatsApp: +91-8879004536
E: info@netlabindia.com