How Samsung Knox help businesses during COVID-19 pandemic?
Samsung Knox may be a complete set of security measures for private and enterprise use pre-installed in most of Samsung's Smartphones, Tablets, and Wearable's. Samsung announced devices which run Knox 3.0 and above integrate seamlessly with similar Android Enterprise features on March 5, 2018.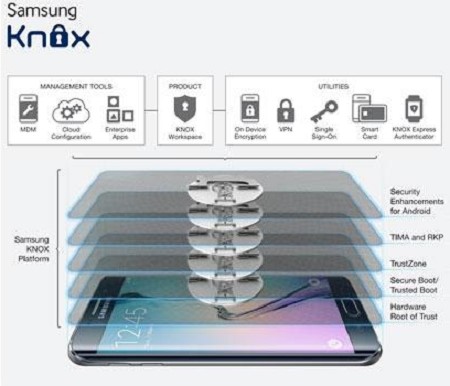 NTIPL in association with Samsung presenting Knox Manage Remote Support Tool:
Helps in providing seamless business flow and effective bedside support during the COVID-19 pandemic situation
A few months ago, to support multiple government's efforts to limit the spread of the COVID-19 pandemic, many businesses around the globe have adopted remote working for the security and wellbeing of their employees. This has ensured the businesses for taking different approaches in their way of supporting their employees' devices and tablets remotely.
Remote Support
Remote Support is a tool included within the Knox Suite bundle and therefore the Knox Manage Enterprise Mobility Management solution that allows an IT admin to securely access, control and support their devices for troubleshooting in either attended or unattended modes.
Easy to deploy, Remote Support is included within the Knox Suite/Knox Manage license and comprises of two applications:
Remote Support Viewer (RS Viewer) which displays the user's device screen on an administrator's laptop. The RS Viewer software is often downloaded from the Knox Manage console.
Remote Support Application (RS App) which receives remote support on the user's device. The RS App are often downloaded from the Knox Manage console, the Knox Manage agent or the Google Play Store
Remote Support Tool
In these tough times, we've seen increased acceptance across verticals not only to healthcare, transportation and education that employ key workers which are essential to keep the country running, but also others like a spread of state use cases.
Let's take a glance at some challenges that are being addressed by the Samsung Knox Manage Remote Support Tool:
Business continuity
Samsung Remote Support solution is application-based which needs least effort for the top user, as the user app is often installed by the IT administrator remotely. The session is often configured quickly and therefore the IT administrator can collect logs through the file-sharing feature to be analysed offline preventing impacting user productivity.
User privacy is maintained during the session with the power for the top user to follow the action being performed on the device.
Samsung Remote Support tool supports both Samsung and non-Samsung Android devices ensuring support across the Android OEM market
Effective bedside support
In the Healthcare Industry; Intensive Care Units (ICUs) or care home patients in isolation have been provided tablets to maintain a way of communication through messaging and video conferencing software with their loved ones during this difficult time.
The main concerns facing IT Managers have been around how to ensure effective support is maintained, especially for patients who might not be tablet literate. Also, there is a need for IT Managers to consider how to prevent patients from getting frustrated due to the new technology introduction.
Deployment of Samsung Remote Support has allowed the IT team to remotely support patient devices in a safe and secure way for educational or troubleshooting purposes. Some benefits, not just limited to the ones below are:
Minimal patient effort: a foreign session is initiated by the IT administrator; the sole requirement is to pick the 'Accept' button which will be presented on the patient's tablet.
Remote learning where an IT administrator can perform a walkthrough of the latest tablet being provided to patients without the necessity to be within an equivalent room, to stop any potential COVID-19 spread.
Ability to capture screen or record a session which is reviewed to investigate any Technical issue at a later stage by the IT administrator.
The ability for taking device logs and copy of files between the device and the IT administrator's computer.
If you would like one of the Knox specialists to get in touch with you to discuss your requirements, please contact us.
Also, you can reach directly to us on the phone number and email address listed below.
M: +91-8879004536
E: info@netlabindia.com