An interactive, digital, creative thinking Samsung Flip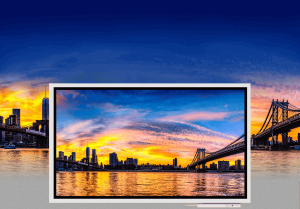 Samsung Flip is an interactive display that provides more productivity and efficient collaboration without hassle. With the Samsung Flip, meetings can take place anywhere and at any time with all the important elements that are needed. Imagine how the Samsung Flip can help your team work smarter, faster and better.
Samsung's 55-inch Flip display is a digital replacement for the traditional whiteboard or flip chart, and a competitor for products like Google's Jamboard and Microsoft's Surface Hub. The Flip is considerably more affordable than its current competition and looks to be a natural fit for business meeting rooms  but how does its design and functionality shape up?
Design
The two boxes containing the Flip screen itself and its wheeled stand were the largest and heaviest review items to arrive at ZDNet's UK office for a while, amounting to 34.9kg. Extracting them from the packaging and setting the 28.9kg screen/stand combo up is definitely a two-person job. There's nothing complex about the process though, and the provided instruction sheet is admirably clear.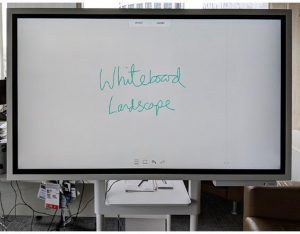 Once it's assembled, you have a digital whiteboard the size of a traditional analogue unit on a movable stand that has two immediately noticeable features: it 'flips' smoothly from landscape to portrait orientation; and it can operate in whiteboard or blackboard mode, with the Tizen 3.0-based user interface automatically reorienting itself.
The whole unit is a neutral light grey color, and a wall-mount kit is available if the Flip is to be a permanent fixture in your meeting room.
Up to four participants can draw on the touch-screen simultaneously, using the passive stylus (two are provided) or a fingertip. When not in use, the pen can be stowed in a pod beneath or on the left side of the screen (depending on orientation); when you remove the stylus from the holder, the screen turns on, ready for use. The pod also houses a motion sensor, an NFC pad (for smartphone connection), a USB 3.0 port and a power button.
There are more connectors at the back: USB 3.0, Ethernet (RJ-45), serial (RS-232), HDMI-in and 'Touch Out' (a USB connection for controlling a PC via touch from the Flip). The Flip also has a pair of integrated stereo speakers at the back.
Some of the Features of Digital Samsung Flip are: