NTIPL provided laptops with high computational power to one of the leading supply chain management company helping them enhance their research efficiency.
A major supply chain management enterprise increased their computing power with the assistance of NTIPL
Organization –
One of the leading supply chain management company
Location –
Mumbai
Domain –
Supply Chain
Solution Offered –
10 Laptops
Overview –
Laptops with high processing power and exceptional efficiency were required by one of the leading supply chain management company. NTIPL provided laptops that match the requirements of our esteemed client along with matching their desired price range.
Challenges –
Matching the configuration of the laptops under the given requirements and providing the client with the desired product that too, within the price bracket they provided.
Solutions offered by NTIPL –
NTIPL provided the client with affordable, versatile and business-ready laptops which have high processing capabilities so that the client can carry out their business activities smoothly without facing any problem relating to computing power.
Why Innovation was required?
The expert team of NTIPL had to rummage through the entire inventory of the organization to find laptops that match the required configuration and also fit under the budget of our esteemed client and had to deliver them in time so that the client can experience zero downtime in their business processes.
Conclusion –
Network Techlab Pvt. Ltd. efficiently provided satisfactory results by delivering highly efficient and powerful laptops to an esteemed supply chain management company increasing their computing capability to effectively tackle tasks that require exceptional and powerful computing devices.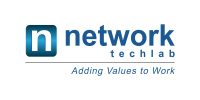 Network Techlab (I) Pvt. Ltd.
41, Sarvodaya Industrial Estate, Opp. Paper Box, Off. Mahakali Caves Road, Andheri East, Mumbai – 400093. India
P: 022-6681 4141 | info@netlabindia.com | www.netlabindia.com
Mumbai | Navi Mumbai | Ahmedabad | Vadodara | Vapi | Pune | Bangalore | Chennai | Goa | Delhi