Network Techlab has deployed renting solution of workstation, server and monitor to leading cyber security solution provider in order to manage OpEx expenditure of their Business.
One of the Renowned Cyber Security solution provider gained visibility and accessibility in their Business leading over greater CapEx and Tax savings.
Organization –
One of the renowned Cyber security solution provider
Location –
Mumbai
Domain –
Supply Chain
Solution Offered –
Server, Monitor & Workstation
Overview –
One of the leading cyber security solution provider which is an IT & ITES company that delivers solutions across the globe. Cutting-edge technology provides solutions and services to clients, building a digital foundation to success in a transformed world.
With a deep down focus in deriving next level strategy in order to implement effective solutions for Businesses, there was a provision of a requirement in IT division for high end processing server, monitor and a complete workstation.
To ease the transition, Network Techlab has built them with a progressive advanced generation solution that has enabled flexibility and scalability in qualitative growth.
Challenges –
Following are the challenges that we have analyzed over their requirement:
Current workstation has created mess & led to inefficiency in productivity.
Low storage access & capacity, as the server was not upgraded & functioned properly.
Constant maintenance on server & workstation.
Potential loss of system efficiency.
Delay in timely delivering of cyber & various other solutions due to poor performance.
Why Innovation was required / Solutions offered –
Benefit of renting IT solution comes in many ways that can highly implement organizational investment structure. The renowned cyber security solution provider has niche in the sector of IT & cyber security, there was a contingency of project implementation in the business & were looking for a robust yet cost defined server & workstation which in respond can make increase in quality of operations thereby determining productivity factor, thus hereby Network Techlab has successfully won the order with immense cooperation and deployed articulated solution to them.
Conclusion –
Our solution provided has led to greater tax savings, huge cost and thereby enabling scalability.
Ease of productivity management with upgraded server solution.
Has facilitated to eliminate extra hardware cost to them.
Better service support from the Network Techlab team.
Optimizing of resource become more worth rather than huge investment.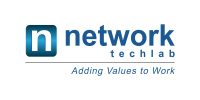 Network Techlab (I) Pvt. Ltd.
41, Sarvodaya Industrial Estate, Opp. Paper Box, Off. Mahakali Caves Road, Andheri East, Mumbai – 400093. India
P: 022-6681 4141 | info@netlabindia.com | www.netlabindia.com
Mumbai | Navi Mumbai | Ahmedabad | Vadodara | Vapi | Pune | Bangalore | Chennai | Goa | Delhi