Network Techlab has tailored a solution of intrinsic MacBook Air to India's largest omnichannel site commemorating their productive and lavishing experience.
One of India's largest omnichannel store achieved its sustainability goals and enrich productive experience by MacBook Air been provided by us.
Organization –
One of India's Largest Omnichannel Site
Location –
Mumbai
Domain –
Ecommerce (Shopping Apparels)
Solution Offered –
MacBook Air (total 40 quantity)
Overview –
The India's largest omnichannel platform initially has been incorporated as Shop sense Retail Technologies Ltd in 2012, spanning over a decade and proactively been changed to India's largest omnichannel platform by helping retail businesses to accelerate growth & opportunities.
Currently headquartered in Mumbai, with a regional office in Noida. The India's largest omnichannel platform motivated to brings focus back to customers and drives interactions within the brand's omnichannel ecosystem⁠—ultimately, unlocking sales and engagement.
Since from the background that highly consist among the retail sector that require instant accessibility to any work defined, hence there organization considerably inquired for MacBook Air with 40 quantity for different location to meet the deadline and productivity on time.
Challenges –
Following are the challenges that we have analyzed over their requirement:
Poor performance of current working laptop/desktop at various locations.
Productivity being impacted and made the work in qualitative.
Delay in production of shopping apparels due to late invoice generation.
System was unsupportive due to outdated technology incapable of coping with software's.
Quality reduction.
Why Innovation was required / Solutions offered –
Thinking of the aspect of lavishing experience which is bound to cater high end working capacity for any work. Aesthetic and applecare plans that allow you to get extra protection of any damage cause to the system with instant service support. This decision facilitated organization to go over the MacBook Air solution.
Conclusion –
Packed with powerful M1 chip has profoundly made the work extremely faster.
Highly compatible to all the locations.
Instant output due to dual engine processor that cater quality work easier.
Security via touch ID has made work significantly secured and private.
Latest-Generation Keyboard with a Force Touch Trackpad.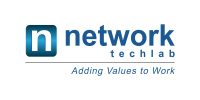 Network Techlab (I) Pvt. Ltd.
41, Sarvodaya Industrial Estate, Opp. Paper Box, Off. Mahakali Caves Road, Andheri East, Mumbai – 400093. India
P: 022-6681 4141 | info@netlabindia.com | www.netlabindia.com
Mumbai | Navi Mumbai | Ahmedabad | Vadodara | Vapi | Pune | Bangalore | Chennai | Goa | Delhi