Network Techlab has made the significance lead of assisting Loudcloud System with renting multiple laptops for Online & Classroom learning applications.
NTIPL has catered Loudcloud System with high end Laptop in a large quantity requirement  for  classroom & online learning
Organisation:
Loudcloud System Pvt. Ltd.
Location:
Andheri, Mumbai – 59
Domain:
Education Centre
Solution Offered:
Rented 71 Laptop till date & every month requires 5/10 quantity constantly for total 3 years.
Overview–
LoudCloud is a learning ecosystem creating an intelligent platform built on behavioural analytics for teaching and learning. Today, Loudcloud System, is a company serving all who work to elevate their lives through education, driving affordability, access and achievement at hundreds of academic institutions nationwide and ensuring millions of students are equipped for success in the classroom and beyond.
Being a highly proactive institute consisting on focusing keen on education virtually, there was a need of multiple workstation or Laptops. Subsequent Laptop count wasn't enough for conducting classes. We at NTIPL, delivered laptops on monthly basis as per their customized requirements.
Challenges-
Institute face multiple challenges like –
Less exposure for online coaching
Limited availability of material.
Low in productivity due to a smaller number of Laptops.
Increasing in number of student's capacity.
Low result orientation due to lower input of machine & servers.
Solution given/Why innovation was required?
Solution:
Due to exposure in online education & virtual platform training by Loudcloud System, their number of students were increasing. Hence making work & interaction more enhancing for all, organization subsequently required the tentative laptops in larger quantity. We helped them in with proficient high-end laptops ensuring their large exposure of students so that they can conduct class activities precisely.
Conclusion-
We made their work precised and helped them in achieving below business benefits:
Easy arrangements of virtual classes.
Help them to save investment over CAPEX.
Good return on investment due to bulk quantities.
High end configured Laptop made their process even better than before.
Made their online session much easier for large number of students.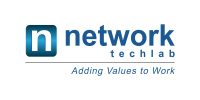 Network Techlab (I) Pvt. Ltd.
41, Sarvodaya Industrial Estate, Opp. Paper Box, Off. Mahakali Caves Road, Andheri East, Mumbai – 400093. India
P: 022-6681 4141 | info@netlabindia.com | www.netlabindia.com
Mumbai | Navi Mumbai | Ahmedabad | Vadodara | Vapi | Pune | Bangalore | Chennai | Goa | Delhi