The leading strategy and HR company moves their website to cloud to achieve unmatched user experience.
Network Techlab deployed a website cloud hosting project that delivered maximum uptime and easy accessibility to users.
Organization
Leading HR Consultant
Location
Mumbai
Domain
BPO KPO
Solutions Offered

NTL Managed Cloud Services
Amazon Virtual Private Cloud
Amazon SNS
Amazon Cloud Watch
Amazon EC2
Overview:
The company is leading strategic and operational HR of Indian and Multinational organizations. The company has expertise in deploying and managing people, process and ensuring operational excellence. They have been working with various industries for providing best-in-class HR services.
Challenge:
As the company works with many stakeholders from various industries for their hiring process and HR-related services, they need to be given access for particular sections and databases on the website. The existing process of provisioning-creating new accounts, tracking, managing policies and making actions on the specific user profiles was difficult and lengthy.  This was resulting in the delayed process to onboard individuals. Manual provisioning was time-consuming and difficult. Hence company decided to move its website to the cloud.
Solution :

The Cloud Services team of Network Techlab went through the challenge faced by the company and came up with a solution to resolve the frequent instability of the website. In order to avoid web server crashes we moved the website to Windows EC to instance, thanks to robust AWS cloud services that can handle increased traffic load on the website. Vertical and Horizontal scaling is highly possible which was not available on the previous platform.  Cloud watch alarm enables preventive alerts in order to avoid future problems.
A solid foundation enables an interruption-free user journey on the website. Amazon Elastic Block Store (EBS) and new Amazon EC2 gp3 instances, Microsoft MySQL Server now has simple, high-performance block storage. io2 Block Express (Preview) and EC2 gp3 provide the best block storage performance with a single storage volume. io2 volume for mission-critical applications and gp3 volumes for general-purpose applications are two other SSD-backed EBS options.
Services Used
Amazon Virtual Private Cloud
Amazon SNS
Amazon Cloud Watch
Amazon EC2
Benefits:
The company has now its a cloud-first strategy to streamline and accelerate business operations powered by AWS cloud infrastructure fundamentally helping the company to succeed in uncertain times. This has boosted business resiliency with highly scalable features.
Maximum uptime and easy accessibility to users
Reduced maintenance and operation cost
Unmatched data security with the power of AWS
Scalable storage on a few clicks
The competitive environment for website and business apps
Sustainable approach and future-proof infra deployment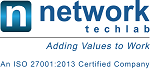 Network Techlab (I) Pvt. Ltd.
41, Sarvodaya Industrial Estate, Opp. Paper Box, Off. Mahakali Caves Road, Andheri East, Mumbai – 400093. India
P: 022-6681 4141 | info@netlabindia.com | www.netlabindia.com
Mumbai | Navi Mumbai | Ahmedabad | Vadodara | Vapi | Pune | Bangalore | Chennai | Goa | Delhi | Kolkata
Wan't to discuss your project? Contact us Today.