The leading food processing company started digital transformation journey by adopting cloud.
Network Techlab helped leading food processing company to back up their user-level data on the cloud with ease, enabling cost and time savings.
Organization
The leading food processing company
Location
Mumbai
Domain
Manufacturing – FMCG
Solutions Offered

Cloud Backup
Atmosvault
AWS S3 and Services
Overview:
India's leading processed Tomato products (Farm to Table) Company, offering Convenient and Customizable base solutions to Indian Foodservice. A strong seed-to-table presence, combined with Japanese lineage enables them to offer global quality, at local Prices. Their passion to offer the best to the consumer, coupled with our corporate motto true to nature. The company wanted to shift their data backup to cloud and start their journey of digital transformation.
Challenge:
The company has multiple users working from the head office and other branch locations. The company has user-generated data which used to be stored on local machines. There was no copy of the data offsite or on the data recovery side. This was uncertain due to the event of data loss can be occurred. In order to nullify this challenge company and team network techlab decided to have data backup on the cloud platform.
Solution :

Network Techlab got engaged with the company team to understand customer challenges and proposed a cost-effective cloud solution for user-level backup. Amazon S3 is the compliance-ready cloud platform for taking backups and minimizing the risk of data loss. Thanks to AtmosVault, that enables the maximum value of data by automating the backup and recovery of files and folders. The dashboard that enables that gives visibility about your data storage and data health.
Simplified user-level backup saves time for the IT personnel and data monitoring with ease. Integration with AWS Services, S3 bucket cloud storage services and also possible with local disk and shared network drive. This brings absolute automation. Enables Cost and Time savings.
Benefits:
Achieved significant cost and time savings with Automation with AtmosVault
Low-Cost Storage & Disaster Recovery Protection
Automated scheduling data backup processes
Secure Cloud backup with encryption
Reduced capital expenditures by switching to OPEX
No longer need of tape robots, tape drives, tape inventory, data center space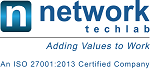 Network Techlab (I) Pvt. Ltd.
41, Sarvodaya Industrial Estate, Opp. Paper Box, Off. Mahakali Caves Road, Andheri East, Mumbai – 400093. India
P: 022-6681 4141 | info@netlabindia.com | www.netlabindia.com
Mumbai | Navi Mumbai | Ahmedabad | Vadodara | Vapi | Pune | Bangalore | Chennai | Goa | Delhi | Kolkata