SAR Transports brings operation flexibility through optimizing transactional and promotional emails.
Network Techlab enables automation through optimizing transactional and promotional emails at SAR transports. SES service enables customer experience, Company saves time and cost.
Organization
SAR Transports
Location
Mumbai
Domain
Logistics
Solutions Offered
NTIPL Cloud Solution – Amazon SES Service
Overview:
The company is a leading logistics company involved in supply chain and international logistics. Currently, Company has almost 200 people and an estimated annual turnover of around 80 million USD. The organization continuously focuses on delivering a satisfactory and reliable experience through its services. In order to enhance customer experience through notifications and email services, the company approached Network Techlab for improvising their email delivery service.
Challenge:
The company has multiple branches and office locations across the globe. Their service and support team from various locations is spread around the corner.  These users have multiple login accounts and user profiles which was causing duplication in account creation. . Manual provisioning was time-consuming and asset management was becoming a concern for transient workforces like service providers and contingent workers. The company was using an email service for updating notifications which were carried out on the dedicated internal server for email delivery. The company wanted to improvise and optimize the email delivery services and adopt best practices for sending emails for each Internet Service Provider (ISP) etc.
Multiple Locations and user profiles cause duplicate account creation
Manual provisioning was taking time for each user and email account
Dedicated internal Email server in multiple locations
Improvisation and optimization in the process needed an hour
Solution :

Network Techlab got engaged with SAR Transport and understood their business need thoroughly. After understanding a business need our cloud solution experts designed complete architecture gives as per below.  Our team proposed Amazon Simple Email Service also called SES as there internal messaging application was cloud based & used mostly by developers and digital marketers to send emails for transaction and notification purposes. We started with building an e-mail service on top of Amazon SES to send e-mail notifications as per their business needs. SAR Transport sends per lakhs of emails/month. Email service application and user application gives racking of all emails with proper process such as click rates, open and other analytics.  It becomes easy to manage & schedule emails to multiple customers. This enables absolute frictionless email delivery with very very minimal time and also can reduce the downtime which was caused earlier due to heavy email usage.
Architecture :

The SAR TRANSPORT application utilizes a Three-Layered Services Application running the Microsoft Windows Operating System. This provides isolation of services for both security and performance. The entire environment resides in a Virtual Private Cloud (VPC) to improve security in addition to Security Groups, Role-based permissions and custom Identity and Access Management (IAM) rules. The Presentation Layer, or Web Tier, utilizes ASP.NET and IIS to provide browser-based interaction. While on a separate subnet, Application Server, was implemented using the .NET framework, Installed tally on it. Also utilizes the relational database Microsoft SQL (MSSQL), there automated backup configured.S3 used for backup there on-premises data. In Work mail one user created for email configuration in their application.
AWS Services are used as below:
Security Groups, Roles & IAM
Workmail
SES
RDS(MySQL)
S3
VPC
EC2
Results:
SAR Transport using an email solution that was flexible and affordable, that was highly scalable, that had global reach, and that promised excellent deliverability. Also using application & tally on the cloud.
Benefits Achieved:
Reduced the cost of existing systems running locally
The marketing team shifts its focus from problems to automation
A scalable solution helps in provisioning emails as per demand
Efficient process and enhance customer experience through the optimized deployment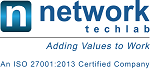 Network Techlab (I) Pvt. Ltd.
41, Sarvodaya Industrial Estate, Opp. Paper Box, Off. Mahakali Caves Road, Andheri East, Mumbai – 400093. India
P: 022-6681 4141 | info@netlabindia.com | www.netlabindia.com
Mumbai | Navi Mumbai | Ahmedabad | Vadodara | Vapi | Pune | Bangalore | Chennai | Goa | Delhi | Kolkata
Wan't to discuss your project? Contact us Today.