Pharma Services Company secured their data using Amazon S3 services
Network Techlab provided a robust cloud backup strategy to the leading Pharma Services Company.
Organization
A Leading Pharma Service Company
Location
Mumbai
Domain
Pharmaceutical
Solutions Offered

Amazon S3
Amazon Data Backup
Overview:
The company providing state of quality healthcare with unique formulations since 1994, Kremoint Pharma has indeed come long way since its inception.
Challenge:
Pharmapoint Services uses data from their on-premises server, which is located on-site, for their apps and websites. Data for the company was not backed up locally or remotely. Pharmapoint was seeking a cloud-based offsite backup of all of their data in an S3 bucket. They were using the DNS of their website & using the subdirectory for sharing. By doing this, the door was kept open for vulnerability.
Solution:
Pharmapoint contacted Network Techlab to consult on their business difficulty of data protection. Network Techlab Team informed about Amazon S3 solution, which provides. smooth data backup from local to cloud storage. It helps in data migration from Backup to Amazon S3.The price of data migration and data protection is greatly reduced.WinSCP helps to improve the value of data. We provided a robust data protection system that automates the backup and recovery of your files and folders. You can easily oversee your data, get consistent backup with a central management system, and manage your IT department. Connectivity is available with S3 bucket cloud storage and Amazon Web Services. On a local disc or network shared drive, this is also possible. Users have the ability to create links and share them with others. They are able to perform automated data deletion using S3 API gateway. The S3 Object link was used to make the same relationship between them as well. They are able to access the user-wise restrictions on IAM using Winscp.
Benefits:
Low cost – storage
Disaster recovery protection
Data backup scheduling processes
Secure cloud backup with encryption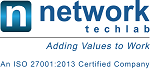 Network Techlab (I) Pvt. Ltd.
41, Sarvodaya Industrial Estate, Opp. Paper Box, Off. Mahakali Caves Road, Andheri East, Mumbai – 400093. India
P: 022-6681 4141 | info@netlabindia.com | www.netlabindia.com
Mumbai | Navi Mumbai | Ahmedabad | Vadodara | Vapi | Pune | Bangalore | Chennai | Goa | Delhi | Kolkata