Leading small machineries and tools making company leverages AWS Cloud Solution for to power up their SAP Workload.
Network Techlab enables full turn-key migration of on-premise servers to Amazon Web Services (AWS) by utilizing EC2 elastic features for quick SAP B1 installation.
Organization
Leading small machineries and tools making company
Location
Mumbai
Domain
Manufacturing – Engieneering
Solutions Offered

Security Groups, Roles & IAM (Identity & Access Management) Rules
Windows on EC2
MSSQL on EC2
Flow Logs
Site-to-site VPN
S3
Linux EC2
OpenVPN for access to remote
Overview:
The Company is one of the leading producers in small machinery and tools-making organizations. It is the subsidiary of one of the leading companies in Hong Kong. The company has setup a factory in 2000 Sq MTR huge space and providing services of all types of machines, tools, mixers, Kelly bar, pumps and desanders.
Carrying out this huge portfolio isn't possible without a sustainable team and big arm. The company has big teams hence users are working in companies are more. Various departments and business applications were hosted on the local server earlier and they needed to move this application over the cloud environment.
Challenge:
In order to enable their teams with an enhanced user experience they wanted to shift their database, business application to the cloud environment. Speed for connectivity and Agile user experience was the only concern in while they were on the on-premise infrastructure. Also, availability of the business-critical applications needs to be enhanced. Company was expected to reduce a CAPEX investments and focusing on the OPEX infra model to save the upfront cost.
Solution :

Network Techlab engaged with them with full turn-key migration of their on-premise server infrastructure to Amazon Web Services (AWS). The migration enabled us to scale quickly and dynamically by utilizing EC2 elastic features and SAP B1 installation.
We migrated MS SQL server in Amazon EC2 Service, The Company was so pleased with the work that has been completed by Team Network Techlab We provided them with an enhanced the user experience for the SAP B1. We have also tly refactored their SAP B1 environment to take advantage of more native features from the AWS platform and increased high availability. The company got scalable infra that can be increased or decreased as per their user workload. They have also saved the cost which they were paying upfront in the on-prim model.
Deployed SAP Business landscapes in the AWS Cloud. Each of the configurations uses separate EC2 instances for the SAP Business database system. Point-to-site connectivity from AWS. Also, it is secured with Antivirus. They allow you to migrate their whole SAP Business one infrastructure to the cloud delivering all true cloud benefits such as scalability, high availability, performance, security and payment as a service.
Architecture :

The standard SAP sizing procedure was utilized when sizing SAP solutions to run on AWS. To obtain sizing information for SAP B1 Server, we had determined their SAPS requirements based on number of users and other inputs regarding to the volume of transactions and then architected their SAP B1 solution on AWS based on the SAPS ratings of the various EC2 instance types. Source server sizing as well as future requirements and flexibility were used to arrive at initial server sizing on AWS. VPC (Virtual Private Cloud) for access we have used point to site VPN using baston host. Also used MS SQL.
Security Groups, Roles & IAM (Identity & Access Management) Rules
Windows on EC2
MSSQL on EC2
Flow Logs
Site to site VPN
S3
Linux EC2
OPENVPN for access remote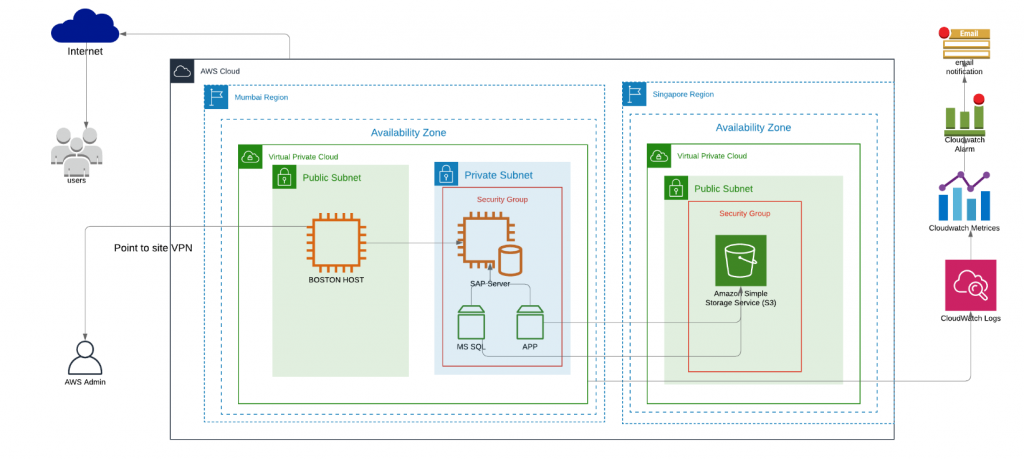 Results:
Company users are now able to onboard more customers significantly faster than on-premises infra. Also, on AWS, they can quickly scale their production stack as dynamically as their workloads scale. For example, The Company IT Team can now easily increase their storage footprint and compute footprint utilizing AWS highly scalable features. Also, can take backup of with automation with the help of Start and Stop Instance
Benefits Achieved:
Better management of infrastructure for optimal resource utilization and application performance, Better Scalability, Security and Agility
Ease of monitoring –This was setup using open source and native AWS based monitoring tools
Cost Savings + Lower TAT on deployment of application workloads and hence faster Time to market, System can be replicated and recovered quickly into AWS without Disruption or Data loss using Auto-Recovery
They have cut down on the amount of IT resources it needs for its SAP systems with regards to administration, ongoing support, performance tuning etc
Finally, We have provided them with an agile platform that allows it to scale up as the company continues to grow every day.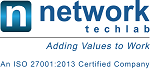 Network Techlab (I) Pvt. Ltd.
41, Sarvodaya Industrial Estate, Opp. Paper Box, Off. Mahakali Caves Road, Andheri East, Mumbai – 400093. India
P: 022-6681 4141 | info@netlabindia.com | www.netlabindia.com
Mumbai | Navi Mumbai | Ahmedabad | Vadodara | Vapi | Pune | Bangalore | Chennai | Goa | Delhi | Kolkata