Globe Mobility Achieves Scalability, Security and Collaboration with Cloud Storage and AtmosVault.
Network Techlab enabled cloud data migration for Globe Mobility using AtmosVault and Amazon S3 Cloud services.
Organization
Globe Mobility
Location
Mumbai
Domain
Mobile Trading COmpany
Solutions Offered

Cloud Migration
Amazon S3
AtmosVault
Overview:
Globe Mobility is one of the leading mobile trading leaders for over 15 years. They have extremely strong and valuable relations with our trading network in prime mobile markets globally. GMPL has well-established operations in India, including local management, wholesale and direct distribution sales teams. We are one of the fastest growing distributors of Mobile Phones in the Global Market.
They are known for the integrity of an order and its timely arrival. Globe Mobility invests in the technology so that they can do the fastest shipping, in this they have multiple data points that create multiple incremental data to backup for the future.
Challenge:
The users of Globe Mobility generate a significant amount of data, with an incremental data size of approximately 6 terabytes. Handling such a large volume of data required efficient and robust migration processes to ensure a smooth transition without loss or corruption. Local computer storage was limited while data growing rapidly, also transferring large amounts of data over the network was time-consuming, potentially causing delays and interruptions. In the manual migration process, there is a possibility of service interruptions or downtime that impacts users' productivity and satisfaction. Maintaining data consistency and synchronization between the local storage and the cloud is essential to ensure that users have access to the most up-to-date and accurate information. To address these challenges, Globe Mobility needs to develop a comprehensive migration strategy that includes efficient data transfer mechanisms, robust network infrastructure, data validation protocols, and thorough testing procedures.
Solution:
To address the challenge of migrating large amounts of incremental data from local storage to the cloud without data loss, Network Techlab has provided a solution using the S3 service and the AtmosVault. The solution utilizes AtmosVault, a native backup application, to automatically store all data in the cloud. It also facilitates the seamless transfer of incremental data to the cloud as it becomes available. The solution is highly scalable, allowing for the storage capacity to increase automatically as the data size grows. The S3 service, provides 99.99% durability for object storage, ensuring the long-term protection and availability of data. By migrating data to the cloud, the solution enables remote access to the data, making it beneficial for organizations that work remotely.
The solution provided by Network Techlab addresses the challenges of data migration by leveraging the S3 service and the AtmosVault. It offers efficient and reliable backup capabilities, scalability, remote access, and continuous data synchronization. These features help ensure a seamless migration process without data loss, while also providing robust data protection and accessibility for organizations.
Benefits:
Globe Mobility has realized several benefits through the adoption of cloud storage and the use of AtmosVault. These include scalability to handle large amounts of user data, reduced maintenance efforts, enhanced data protection and security, improved collaboration and data sharing, as well as reliable data backup and recovery capabilities.
Achieved scalability in managing its large numbers of users' data
Reduced the maintenance cost involved in the maintaining physical infra
AtmosVault has significantly enhanced data protection and security
Enabled easy collaboration and data sharing among users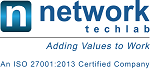 Network Techlab (I) Pvt. Ltd.
41, Sarvodaya Industrial Estate, Opp. Paper Box, Off. Mahakali Caves Road, Andheri East, Mumbai – 400093. India
P: 022-6681 4141 | info@netlabindia.com | www.netlabindia.com
Mumbai | Navi Mumbai | Ahmedabad | Vadodara | Vapi | Pune | Bangalore | Chennai | Goa | Delhi | Kolkata