Fire Detection Solution company leverages power of cloud for their data backup.
Network Techlab enables easy cloud backup using Amazon S3 and Atmosvault, enables cost savings and data protection.
Organization
Firtech Equipment Systems
Location
Mumbai
Domain
Manufacturing and Export
Solutions Offered

Amazon S3
AtmosVault
Overview:
The company is a leading fire and security solution provider, established in 2014 and has a sales and support office in Navi Mumbai. The company has grown its business relationships based on outstanding services and technical excellence. They needed a robust data backup solution to minimize the risk of data loss.
Challenge:
The Company has multiple users working in the office and generating nearly about 4 TB of incremental data which was stored locally on computers. There were certain challenges involved in the offsite da backup happening previously. Increased data may lead to out-of-storage space as the increased hardware for data backup was not possible quickly. Accessibility and versioning were not possible with offsite backup due to which document updates were not getting recorded. This was highly vulnerable as with any physical or human errors data could be at risk.
Solution :

Team Network Techlab has gone through the situation described by the customer and proposed a detailed data backup solution using Amazon S3 and AtmosVault-our native backup delivery platform to automate backup at any point. The solution provided by us was highly durable as it provides 99.999999% durability for object storage and protection data, cloud backups are scalable with one click upgrade whenever you increased the data load. We provided a solution that enables access to data whenever required which particularly helps organizations in case of remote working. AtmosVault enables continuous sync in data and the document is updated with the latest revisions, it also gives the health of the storage and reminds you whenever you are running with short storage.
Benefits:
Highly durable and scalable data backup
Automation in Data backup and proactive management
Seamless integration with new business apps
Highly cost-effective which saves an upfront investment of backup hardware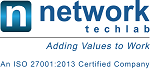 Network Techlab (I) Pvt. Ltd.
41, Sarvodaya Industrial Estate, Opp. Paper Box, Off. Mahakali Caves Road, Andheri East, Mumbai – 400093. India
P: 022-6681 4141 | info@netlabindia.com | www.netlabindia.com
Mumbai | Navi Mumbai | Ahmedabad | Vadodara | Vapi | Pune | Bangalore | Chennai | Goa | Delhi | Kolkata
Wan't to discuss your project? Contact us Today.