Evio engineering collaborates faster with easy file access from anywhere.
Network Techlab delivered an easy file access management solution to a leading engineering consultancy company.
Organization
Leading Engineering Consultant
Location
Mumbai
Domain
Engineering
Solutions Offered

RDS License windows
Security Groups, Roles & IAM (Identity & Access Management) Rules
Windows EC2, Linux
Flow Logs
CloudWatch
Overview:
The company is a leading engineering consultant who can help in a wide range of industries with their engineering expertise. When someone looking for an engineering partner they need somebody who can they rely on and that is where Evio Engineering comes into the picture. They have in-house skills, and the ability to conceptualize and implement engineering solutions to shape our approach to match your needs. They have multiple users, consultants, engineering service providers and external stakeholders who work in collaboration to deliver successful engineering deployments. They wanted to access respective file server data from anywhere in the world.
Challenge:
The company has a large team size and a variety of external users who access file servers from anywhere in the world. They were using on premise server earlier and accessing their file server through private IP which was not a secure practice. Most users were able to access file servers remotely, but on the organizational level, it was difficult to keep track of the user's records on the physical server.
Solution :

Network Techlab started working with Evio on the AWS infra-cloud project. Network Techlab team offered a cloud file server solution via bastion host. This allowed them to use a service-based structure to access the File server and data. As a result, users can access the file server from anywhere.
At the Data Centre level, the File Server Cloud service makes use of the Operating System. Secure access is provided to the client to use business applications and enterprise desktops from any device, at any time because the server is already hosted on the cloud. Users can now gain remote access both on-premises and at work. Users can also gain access by using private IP addresses. Auto start and auto stop of the server is also enabled.
Architecture:
This solution isolates services for security and performance reasons. In addition to Security Groups, Role-based permissions, Identity and Access Management (IAM) policies, the complete system is located in a Virtual Private Cloud (VPC) to boost security. Remote workers can work from home. In this automation, backup is also performed in another location, and instances are started and stopped as needed. On these servers, remote users can connect.
Services Used
RDS License windows
Security Groups, Roles & IAM (Identity & Access       Management) Rules
Windows EC2, Linux
Flow Logs
CloudWatch
Benefits:
Easy file access enables work from anywhere
Reliable uptime with AWS solution
Reduced the cost of on-site licensing, maintenance and hardware
Demanding scalability can be achieved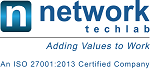 Network Techlab (I) Pvt. Ltd.
41, Sarvodaya Industrial Estate, Opp. Paper Box, Off. Mahakali Caves Road, Andheri East, Mumbai – 400093. India
P: 022-6681 4141 | info@netlabindia.com | www.netlabindia.com
Mumbai | Navi Mumbai | Ahmedabad | Vadodara | Vapi | Pune | Bangalore | Chennai | Goa | Delhi | Kolkata
Wan't to discuss your project? Contact us Today.