Network Techlab successfully deployed Accops HySecure on Cloud
A Boutique Law Company Adopted VDI Technology and given secured access to their employees
Organization:
A Boutique Legal Company
Location:
Mumbai, Maharashtra
Domain:
Financial Industry
Solution Offered:
Accops Hysecure Deployment on Cloud
Overview:
A boutique business law firm established in 2015, consisting of many experienced professionals. In its short stint, the firm has successfully carved a niche for itself in the highly competitive legal market in India.  Their Team comprises of an experienced, motivated and dedicated team of lawyers who thrive on energy and complexity.
Due to Remote working conditions, employees were working from home and there was a need of  secured VDI platform to access the files and applications.
Challenges:
Remote working has arrived on the edge and security of the network can be given as second thought. Secured access to the files and applications was the primary objective of this case. Secured access needs to be provided for Veritas Legal's business applications and resources for the users working remotely. Our objective was to enable organization with Data Protection while they are using applications and resources remotely.
There was also a challenge in providing a detailed audit log of user logins and devices. Accops' VDI Solution was to be deployed in cloud infra provided by Veritas Team. Along with this, Remote access was required for the internal applications which were on-premise of the local network.
Solution:
Network Techlab and team got engaged with them for their requirement as mentioned in the above scenario. In this, we enabled Accops HySecure on AWS infra cloud. Accops Hysecure is an application access gateway that enables enterprise mobility and secured access to corporate applications, desktops and network services from any device working from any network. Accops HySecure with built-in SSL VPN delivers any application, data and network service anywhere, anytime securely.
Seamless Integration with AccopsHySecure enabled secured access to corporate applications & desktops. Secure access to business applications & enterprise desktops, anytime, anywhere using any device.
The Architecture: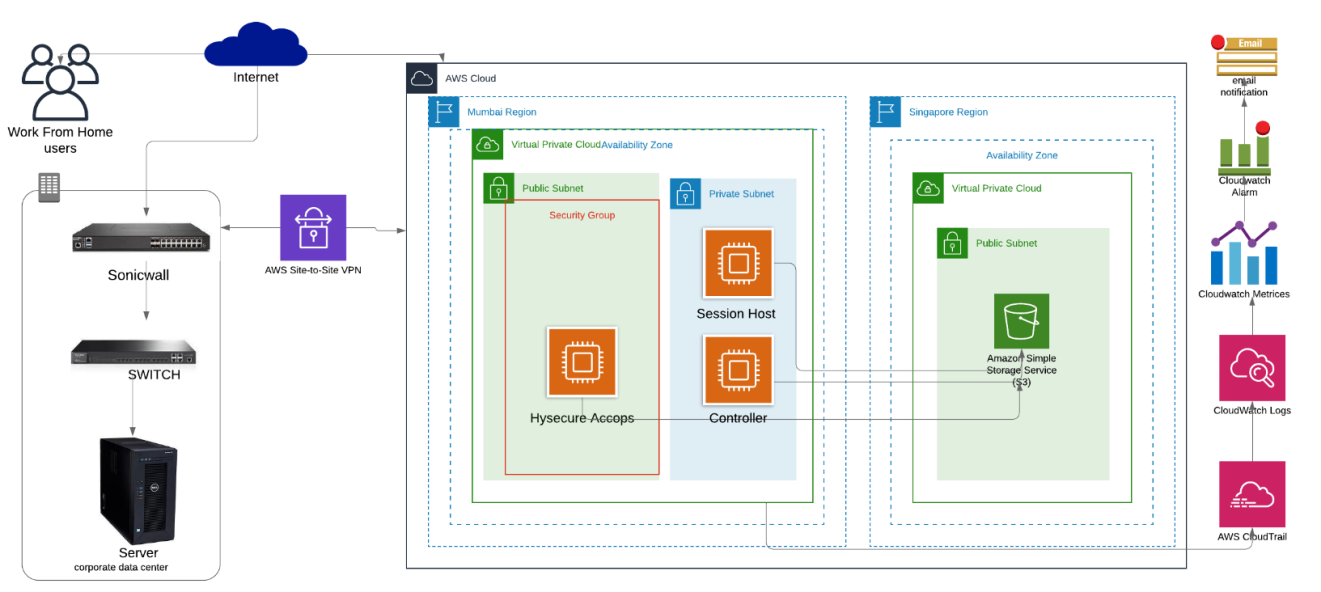 Their application is now utilizing a Hysecure by Accops. This provides isolation of services for both security and performance.
The entire environment resides in a Virtual Private Cloud (VPC) to improve security in addition to Security Groups, Role-based permissions and custom Identity and Access Management (IAM) rules. The HySecure Application is secured for Work from home remote users.
In this automation backup also goes in another region. In this, AD is connected with Session host server to get policies of on-premises users to take remote sessions. EC2 image can be used in AWS market place image.
Thanks to the below services from Amazon Web Services which helped us to make this deployment faster and scalable:
Network Techlab utilized the following AWS services in the production solution:
VPC (Virtual Private Cloud)
Security Groups, Roles & IAM (Identity & Access Management) Rules
Windows EC2
MS SQL on EC2
Flow Logs
Site to site VPN
CloudWatch
SNS
Linux EC2-Hysecure app
Results:
Users of the Company are now able to do work from anywhere & anytime. Also, on AWS, they can quickly scale up their production stack as dynamically as their workloads scale. With the help of Accops HySecures Secure Private Application Network (SPAN) technology, now every access is secured and enables high performance and simplified remote access is on one click.
Benefits Achieved:
The deployed architecture is optimized for the remote working conditions and now employees can do work from anywhere anytime by accessing desired data/applications
They were able to reduce their costs of running systems locally which allowed their engineering team to focus on enhancing the product instead of spending time with hardware. In addition, they were able to transition from a CAPEX cost model to an OPEX cost model that aligned better with their SaaS model.
With AWS we provided a uniform environment for the enterprise's web properties, and eliminates the cost of licensing on-site maintenance, and hardware tech refresh
The application can scale up or down simply based on demand. Backed by Amazon's massive infrastructure, they have access to compute and storage resources when you need them.
Secured Access to Business Applications and resources by users remotely.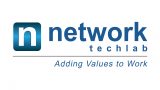 Network Techlab (I) Pvt. Ltd.
41, Sarvodaya Industrial Estate, Opp. Paper Box, Off. Mahakali Caves Road, Andheri East, Mumbai – 400093. India
P: 022-6681 4141 | info@netlabindia.com | www.netlabindia.com
Mumbai | Navi Mumbai | Ahmedabad | Vadodara | Vapi | Pune | Bangalore | Chennai | Goa | Delhi | Kolkata
Wan't to discuss your project? Contact us Today.