A Leading Event Production Company's Leap into a Story of Successful Transformation.
Network Techlab enables successful website migration and provided fully scalable secure platform to a leading event production company to host their website.
Organization
A Leading Event Production Company
Location
Mumbai
Domain
Events
Solutions Offered

Cloud Migration
AWS CDN
Overview:
The company is a leading event management company that deals in to creative production and on ground deployment. They aim to deliver exceptional results and have proven track records of delivering exceptional results across the country. They have been entrusted by some f the most recognized and successful companies.

Challenge:
The company is into media production and majorly deals in experience management. As they offer event management, experiential campaigns and exhibition business user experience means a lot to them. They wanted their website to be streamlined and have a consistent user experience when their users land to the website. They have observed that in the previous infrastructure of the website uploading video was time-consuming and had difficulties in the mainlining performance due to the size of the video. They were looking to have a scalable and secure hosting solution for their website and address these business-critical challenges.
Solution:
Determined to overcome above above-discussed challenge, The company decided to embark on a transformational journey. They took a leap of faith and migrated their websites to Windows instances on Amazon Elastic Compute Cloud (EC2), a move that promised stability and the ability to handle increased traffic. Network Techlab helped them to migrate their website server from the previous hosting to AWS EC2 Instance.
Now website is being hosted on AWS, they gained the power to scale their instances both vertically and horizontally, allowing them to adapt to varying levels of website traffic. This newfound flexibility was a game-changer. Whether they needed to add more resources to a single server (vertical scaling) or distribute the load across multiple servers (horizontal scaling), AWS had them covered.
But that was just the beginning of their AWS adventure. They didn't want to wait for issues to arise; they wanted to be proactive. To achieve this, we have set up CloudWatch alarms to monitor system parameters continuously. These alarms were like vigilant guardians, ready to send alerts at the first sign of trouble. Thanks to CloudWatch, they could detect and address potential problems before they could escalate into full-blown crises.
As time went on, they began to realize the true value of their migration to AWS. Their foundation was no longer built on shaky ground, but on the rock-solid infrastructure of Amazon's cloud. The business could now run without interruption, even during peak ticket-buying frenzies. The days of server crashes were a distant memory.
But what truly set them apart was their ability to predict performance and make changes to their environment as needed. With the data and insights provided by AWS services, they could foresee when traffic spikes were likely to occur and take preemptive actions. It was like having a crystal ball for their online operations.
They decided to move to AWS was a story of transformation and success. Their websites were stable, their customer experience was improved, and they had the tools to stay one step ahead of any potential issues. With the power of AWS, The Company continued to thrive, bringing unforgettable experiences to event-goers around the world. Their journey had not only taken them to the cloud but also to new heights of success in the world of online events and ticketing.
Benefits:
Scalable Web Hosting
Unlimited Storage Capacity
Cost-Efficient Website Solution
Sustainable and Loss Preventive Customized Solution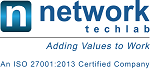 Network Techlab (I) Pvt. Ltd.
41, Sarvodaya Industrial Estate, Opp. Paper Box, Off. Mahakali Caves Road, Andheri East, Mumbai – 400093. India
P: 022-6681 4141 | info@netlabindia.com | www.netlabindia.com
Mumbai | Navi Mumbai | Ahmedabad | Vadodara | Vapi | Pune | Bangalore | Chennai | Goa | Delhi | Kolkata
Wan't to discuss your project? Contact us Today.