Work from any corner of the World
Work from Anywhere is Future
Embrace the Change with Future-Ready Workspace
Lead your organizations into the new normal and enable your business users to seamlessly switch between 'work from office' and 'work from home'. Transform your business by empowering your workforce to be productive from wherever they are, with a secure, robust and flexible IT infrastructure.
Are you ready for a Long-Term Remote Work ?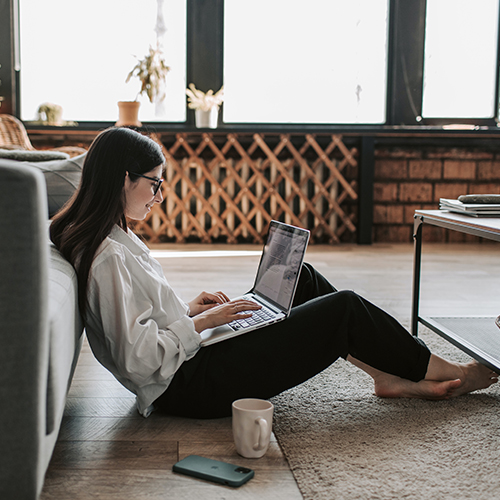 The work from home (or for that matter work from anywhere) has become a new normal, registering a whopping 10-times spike since February 2020. Though the pandemic situation has led to a spurt in the demand lately, work from home isn't only about business continuity. Business users today are accessing corporate applications and data from various locations, using varied devices and in different ways. As a result, enterprise networks have become 20 times more vulnerable to cybersecurity threats. Accops provides comprehensive, zero trust-based end user computing solutions, enabling secure and instant access to business applications from anywhere, any device and over any network. Accops Digital Workspace suite includes Application & Desktop Virtualization (VDI), Application Access Gateway and Identity & Access Management solutions, helping organizations to swiftly enable work from anywhere within days. Accops is a single-stop shop, taking care of all remote access, application virtualization, VDI, MFA, identity federation, SSO and thin client needs. Accops' products are highly modular to fit the needs of businesses of all sizes, providing seamless access to modern web applications, SaaS applications, client-server applications, legacy applications, virtual applications and virtual desktops.
Why Work from Home/Anywhere?
Work from Home/Anywhere allows your workforce for a flexible work environment and they become the extension of your Organization to treat your business like it was their own.

Multiple Options
Provide secure, Zero Trust-based access to office PCs and internal applications, or deploy a VDI-based solution and deliver virtual applications and virtual machines to WFH users.

Cost Effective
Deploy a highly cost-effective WFH solution with flexible licensing options and low Total Cost of Ownership, when compared to industry standards.


BYOD friendly
Easily enable employees to use devices of their own choice for work, and enjoy the several business benefits offered by BYOD.


One-Stop WFH Solution
A single, integrated offering that provides L7-based VPN, Virtualization, Identity and Access Management, Data Loss Prevention, Productivity Monitoring, MFA & SSO.
How to enable a Digital Workspace for your distributed workforce?
We provide simple and innovative end-to-end solutions from Accops that enable enterprises to build a secure, agile and cost-efficient Digital Workspace and allow their users to work from anywhere, all while ensuring network security, customer data privacy, and regulatory compliance. Network Techlab, with more than 25 years in the IT Infrastructure and Cybersecurity domain, helps you deploy Accops solutions quickly and reach ROI faster.
What we offer when it comes to Work from Home/Anywhere.

Accops Hyworks
End User Computing Virtualisation

Accops Hysecure
Zero Trust Access Gateway

Accops HyID
Identity & Access Management

Accops Nano
Read-Only, Live OS in a USB

Accops Virtual Office
WVD more powerful with simplified management
Check who has deployed already?
Here are some of our customers leveraging WFH/WFA to multiply their growth.
One of the leading Legal organization adopted VDI Technology and given secured access to their employees
Network Techlab successfully deployed Accops HySecure on Cloud
Interested in our services?
Get in touch with us to know how we can help you.