The popular book store unwinds the power of cloud.
Network Techlab delivered cloud-enabled backup to one of the popular book stores in Mumbai. Helped in cost-saving and building automation.
Organization
The leading food processing company
Location
Mumbai
Domain
Manufacturing – FMCG
Solutions Offered

Cloud Backup
Atmosvault
AWS S3 and Services
Overview:
The company is the story of passion. Passion for books and to create a comfortable and cozy space where a book-lover can spend hours browsing and selecting what he or she likes, in an atmosphere of complete serenity. This is a brainchild of a select few who are doyens of the trade, founders of the company. This is an unwinding place for book lovers. The company has multiple data points where they save their data generated by users and administration.
Challenge:
The bookstore has multiple data points such as business apps, users and inventory management. All this data was stored locally on the system and physical tape drive. Single-copy data management practice was savage and would have invited to incidents of data loss. Manual backup was time-consuming and also human intervention was required in that.
The book center was looking to back up data offline on their system along with disaster recovery backup on the cloud side, all this needed to be performed without human intervention.
Solution :

Team Network Techlab got engaged with the book center and helped them with a complete plan for onsite data backup along with cloud disaster recovery backup.
The Network Techlab team has proposed Amazon S3 Cloud storage which seamlessly backup the data over a cloud, thanks to our own service AtmosVault which helps to automate backup from one single device to a local server and cloud at the same time.
A centralized management tool for data backup and visibility of the data health minimizes the efforts required for the data backup and it's reliable to use. Important data along with business apps and inventory files get copied to the cloud and onsite backup with no human intervention. This happens within the scheduled time range and hassle-free operations take place.
Benefits:
AWS and AtmosVault enable significant cost savings
Low-cost storage & disaster recovery protection
Automated scheduling data backup processes
Secure Cloud backup with encryption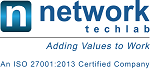 Network Techlab (I) Pvt. Ltd.
41, Sarvodaya Industrial Estate, Opp. Paper Box, Off. Mahakali Caves Road, Andheri East, Mumbai – 400093. India
P: 022-6681 4141 | info@netlabindia.com | www.netlabindia.com
Mumbai | Navi Mumbai | Ahmedabad | Vadodara | Vapi | Pune | Bangalore | Chennai | Goa | Delhi | Kolkata