Network Techlab successfully deployed Amazon Workspace Services at One of the leading logistics companies.
One of the leading logistics companies saves 30% on IT Assets, Improves productivity with Network Techlab Cloud Service Offering powered by Amazon Workspace Service.
Organization:
One of the leading logistics company
Location:
Mumbai, Maharashtra
Domain:
Logistics Company
Solution Offered:
AWS Workspace Service Deployment
Overview:
Founded in the year 1996 and headquartered in New York, this Company is a leading global Logistics and Freight Forwarding service provider. The Company deals in the innovative and fully integrated Supply Chain solutions. The company has expanded strategically with 30+ offices throughout the USA, Turkey, India, China, Mexico and Russia. Company works with 400+ team size and wish to do lot more to continuously enhance its ambition and wants to be aggressive to continue growth in the coming years.
The Company believes in the pursuit of perfection and achieving Customer confidence while leading the future of the Logistics industry. Network Techlab was got engaged with the company to improvise on their IT Asset Management project, in order to maximize the workspace value and simplify their IT Asset Management across various locations.
Challenge:
The Company has multiple offices with multiple user profiles that were spread across various locations. This led to duplication of account creation and delay in provisioning. Manual provisioning was time-consuming and Asset Management was becoming a concern for the Transient workforces like Service Providers and Contingent Workers.
Solution:
The Company has built and implemented fully Automated Service; a Catalog based configurable solution to scale up/down with support for multi-region, multi-account, catering to different user personas in the enterprise. The integrated model with Active Directory, volumes encrypted for Global workspace provisioning and usage. The solution is enabled to self-heal for provisioning failures and unhealthy workspaces.
Each workspace is associated with a Virtual Private Network (VPN) and has a directory to store and manage information for your workspace and users. All directories are handled by AWS Directory Service that offers various options for authentication. The user login information is sent to an authentication gateway that forwards the traffic to the directory. Streaming traffic is triggered through the streaming gateway after that user is authenticated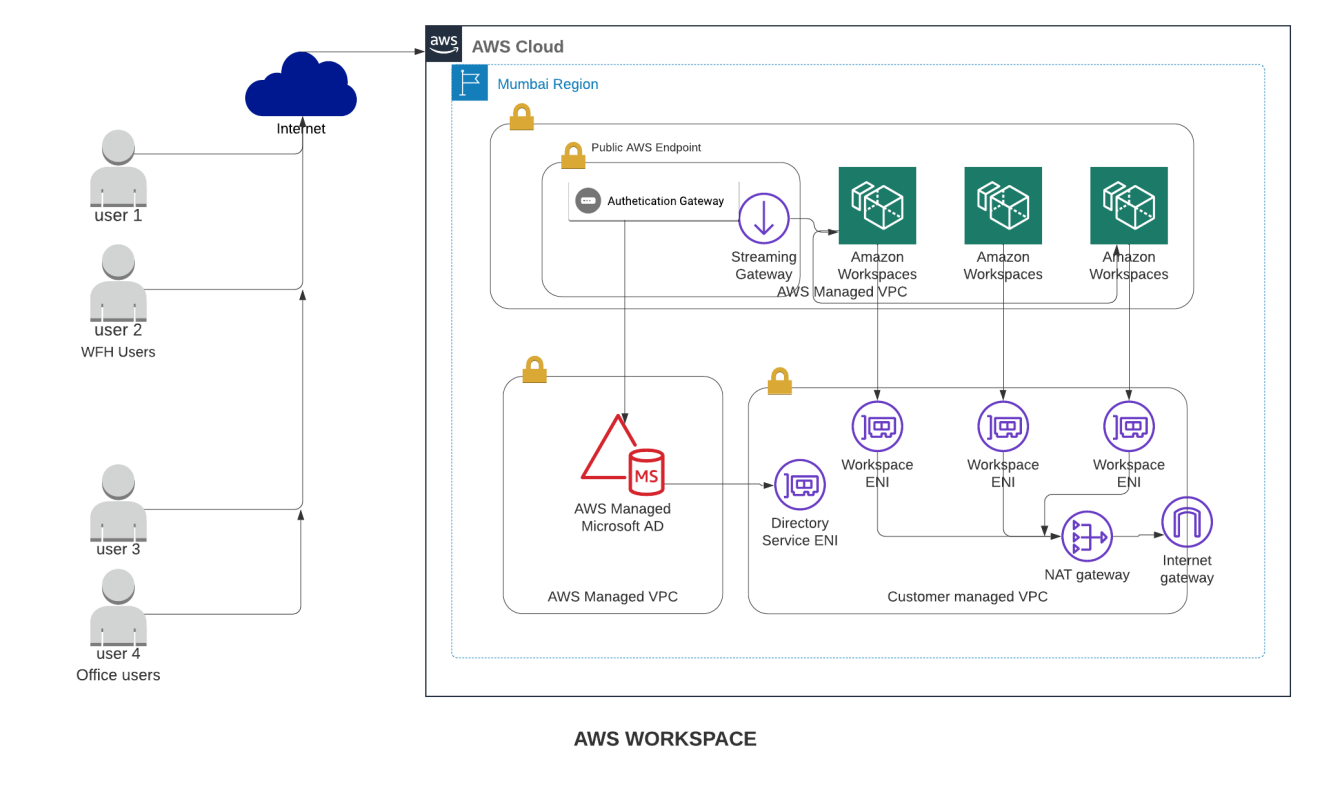 Every workspace has two connected, elastic network interfaces, a management interface (eth0) and the main network interface (eth1). Main network interface, from the same subnet used by the directory has an IP address supplied by VPC. Through this, traffic can quickly enter the directory from the workspace. Security groups allocated to the primary network interface control the access to resources in the VPC. Finally,  AWS consulting partner will be able to understand about the usage, architecture and working of AWS WorkSpace. We help them to understand the same and use the solution in their favour to cater to the dynamic needs their businesses. Below are some of the details we came to know after implementing the solution
Security Groups, Roles & IAM (Identity & Access Management) Rules
Workspace
Active Directory
Flow Logs
VPC
Workspace Client end user
ENI
AMI
Results:
With Amazon Workspaces, The Company is now able to forecast its Cloud First strategy to streamline and accelerate business operations. Building an AWS Cloud Infrastructure ultimately supported the company in many ways that will help to succeed in uncertain times.
Benefits Achieved:

The Company reduced the Cost by 30% by replacing some VDI systems
Easy Migration from Windows 7 to Windows 10
One particular benefit of AWS Workspaces came to focus after the COVID-19 pandemic emerged, Users can work remotely
Using Amazon Workspaces, now users can access from Windows and Mac computers, Chromebooks, iPads, Fire tablets and Android tablets with the help of the Amazon Workspaces client application
The Company users can work anytime from home & office; this can be scaled up/down easily.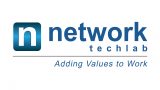 Network Techlab (I) Pvt. Ltd.
41, Sarvodaya Industrial Estate, Opp. Paper Box, Off. Mahakali Caves Road, Andheri East, Mumbai – 400093. India
P: 022-6681 4141 | info@netlabindia.com | www.netlabindia.com
Mumbai | Navi Mumbai | Ahmedabad | Vadodara | Vapi | Pune | Bangalore | Chennai | Goa | Delhi | Kolkata