Future Proof Your IT with Hyper Converged Infrastructure Solutions
Today, we see businesses are changing the way they work. Many of them have adopted converged infrastructure
(CI) to meet changing requirements.
Hyper-converged infrastructure can offer an organization several benefits, not only simpler deployments and management but also better reliability, scalability, data protection and resource utilization, to name a few. That's not to say HCI is for everyone, but for the right workloads, HCI can prove a useful addition to the data center or edge environment, reducing costs and simplifying IT.
In today's blog post we will know more about HCI (Hyperconverged Infrastructure) in detail, we will also let you know more about Top Benefits of using HCI in to your Infrastructure.
HCI is an IT concept that includes virtualizing all hardware components in a traditional server. Within a  software-defined architecture, this allows you to centrally control the associated infrastructure resources. In order to decrease data center complexity and boost scalability, it combines storage, processing, and networking into a single system.  HCI typically runs on commercial off-the-shelf (COTS) servers.
Let's understand Difference between Hyperconverged Infrastructure & Converged infrastructure
Converged Infrastructure (CI) is a hardware-based approach to converging storage and processes whereas Hyperconverged Infrastructure (HCI) is a software-based approach. Converged infrastructure involves a preconfigured package of software and hardware in a single  system for simplified management. But with a converged infrastructure, the compute, storage, and networking components are discrete and can be separated.
In a hyperconverged environment, the components can't be separated the software-defined elements are implemented virtually.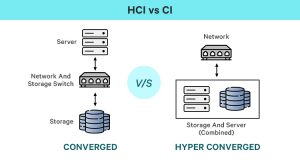 Here are Top benefits of Hyper-Converged Infrastructure
Optimized infrastructure costs, especially at small scale – An HCI solution reduces the initial footprint and  investment of your new private or public cloud by combining computation and storage into one. Because it is easier  to run than managing many separate IT components, the hyperconverged cloud lowers the need for expensive,  specialist staff.
Simplified management – HCI solutions typically give a straightforward interface for running workloads at the  VM/application level, making process simpler for your team.
Simplified hardware selection and upgrades –   You can buy and run hyperconverged solutions since they  come in pre-packaged packages. HCI solutions are frequently simple to scale since they use the same basic blocks.
Simple Scalability – Scale computing and storage at the same time. By adding a new server/node to the cluster,  capacity and performance can be increased. Each virtual machine (VM) can be grown to very large CPU, RAM, and  storage capacity and performance.
Good overall performance – A well-designed hyperconverged infrastructure has a lot of performance available to be shared by all applications. As a relatively new concept, HCI solutions utilize fast CPUs and SSD/NVMe storage devices, which are just fast. In the hyperconverged concept, there is usually a fast tier of storage, assisting computing, so all applications benefit.
Get Support on every step of your Journey for HCI.
Network Techlab is a Master Partner of Nutanix and Hyper Converged infrastructure Service Providers in India  having an experience of more than 25 years in the system integration space.
For enterprise virtualization, Network Techlab provides software, compute and storage infrastructure, and  hyperconverged infrastructure solutions without the need for complex and expensive network storage, whether SAN or NAS. Along with Nutanix, Clusters provided by Nutanix HCI software and services, allowing management and operations of hybrid cloud infrastructure from a single console. The platform supports many hypervisors and offers a wide range of use cases with integrated native storage services, database management, application life cycle management, micro-segmentation, backup, and disaster recovery services.
Today, HCI is the infrastructure of choice for companies that want to stay competitive and evolve with the changing  realities of the technology landscape. Most transformations are initiated by the need to replace end-of life hardware or introduce new operating systems every few years. Network Techlab is the name to remember when it comes to building a dynamic IT infrastructure that can keep up with the demands of new and developing technology.