The leading spring manufacturing company enables wireless office, enhances operations boosts productivity .
Network Techlab deployed a Wi-Fi, enabling the company to deliver great user experience, operational efficiencies and more collaboration.
Organization: The leading spring manufacturing company
Location: Mumbai
Domain: Manufacturing
Solution Offered: Alcatel Wi-Fi Solution
Overview
The company is a leading spring distributor in India and a young energetic, vibrant organization in the precision engineering domain. They are serving global markets for high tensile fasteners and technical springs. The company was looking for wireless operations in their office premises and wanted to enable remote users with a seamless connectivity experience without a wired connection.
The Challenge:
The company wanted to enhance the user experience of their mobile users in the office who were using laptop machines. Every time to connect to the internet LAN was required and they found this as an interruption to users and there was a need for a Wi-Fi solution came in the picture. They were looking for a centralized manageable Wi-Fi solution that was required to be robust and cost-effective. The company has checked competitive solutions which were needed to be full proof, reliable and high capacitive which should sustain the load of every user.
Solution:
After brief discussion with the client's team, Network Techlab has evaluated the Alcatel Centralized Wi-Fi Solution. There were multiple brands at the evaluation stage but this has met the customer expectations along with price and delivery timeline. The Network Techlab team designed a complete solution with an architecture layout to deploy the seamless wireless solution. There were Switches, Access Control solutions were provided with complete installation and deployment. Further signoff document has been shared with the customer after testing and delivering the site to the customer.
Benefits:
High-Speed connectivity with no downtime
Enabled users with easy operations using a wireless network
High-performance network coverage to office and factory premises
Ease of manageability with centralized operations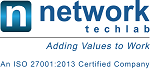 Network Techlab (I) Pvt. Ltd.
41, Sarvodaya Industrial Estate, Opp. Paper Box, Off. Mahakali Caves Road, Andheri East, Mumbai – 400093. India
P: 022-6681 4141 | info@netlabindia.com | www.netlabindia.com
Mumbai | Navi Mumbai | Ahmedabad | Vadodara | Vapi | Pune | Bangalore | Chennai | Goa | Delhi | Kolkata
Wan't to discuss your project? Contact us Today.