The Leading international chemical company enhanced collaboration of hybrid workforces with full proof, reliable video conferencing system.
Network Techlab helped in the deploying a cost-effective video conferencing solution. Helped to drive faster collaboration and significantly reduce the time required for physical meetings.
Organization
The Leading International Chemical Company
Location
Mumbai
Domain
Manufacturing
Solutions Offered
Video Conferencing Solution
Overview:
The company is in the business of chemical manufacturing and services used in the construction and building industry. From high-rise buildings and bridges to your house renovation, from tunnels to wind turbines, and all that is in between. You see sustainable roof system which outlasts the test of time, weather and even the harshest design critics. The colorful floor which is resilient under a thousand feet, yet low-VOC and long-lasting, leading to a reduced carbon footprint over its performance life. It's all possible due to products manufactured by the company.
The company was looking to set up their office board room with a video conferencing solution to make their board room fully equipped with a video conferencing system.
Challenges:
The company was dealing with a remote working environment where users were working from anywhere. Sometimes they were working from home, outside and office too. This has created a new hybrid working environment where communication and collaboration is the only key. The company wanted to empower its hybrid workforce with a variety of video conferencing and meetings.  This required a wide range of video hardware systems with devices and software. The company was looking to set up this infrastructure with the optimum budget kept in mind. The company wanted to set up this infrastructure for a 30-35 seating arrangement capacity.
Solution:

Network Techlab was involved with the company's team and designed a complete layout for their project along with architecture. This architecture design is shown to the company and further, we started by deploying the proposed solution. We proposed a full-proof solution of Logitech Rally plus with a Camera, Speaker, Mic and Hubs. This creates echo cancellation and radically reduces the noise along with a high-quality camera that focuses on objects with motion sensor technology.
The solution provided by Team Network Techlab is reliable yet cost-effective to suit the needs of SMB companies. We supplied the necessary bill of material required in this project. In order to set up above discussed services, our team has deployed a solution with the discussed timeline.
Benefits:
Increased interaction of hybrid workforces from all locations
Experience the rich, lifelike sound reduces communication breakdown
Reduced the travel time required for the physical meetings
Increased collaboration and faster decision making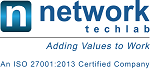 Network Techlab (I) Pvt. Ltd.
41, Sarvodaya Industrial Estate, Opp. Paper Box, Off. Mahakali Caves Road, Andheri East, Mumbai – 400093. India
P: 022-6681 4141 | info@netlabindia.com | www.netlabindia.com
Mumbai | Navi Mumbai | Ahmedabad | Vadodara | Vapi | Pune | Bangalore | Chennai | Goa | Delhi | Kolkata