Network Techlab (I) Pvt. Ltd. provided EPABX solutions to the Flim Production House in their new Premises.
Network Techlab (I) Pvt. Ltd. delivered successful Voice Line Implementation to one of the famous production houses in Mumbai.
Domain
Film Production House in Mumbai
Location
Mumbai
Solutions Offered
EPABX
Overview:
Maddock Films Pvt. Ltd. is an Indian production house founded by film director and producer Dinesh Vijan. Established in 2010, the Maddock Films Pvt. Ltd. has produced critically and commercially acclaimed Hindi films that include Love Aaj Kal, Cocktail, Badlapur, Hindi Medium, Stree, Luka Chuppi and Bala.
As Maddock has a new Building to begin their Operations for HO and Productions House, they were looking for a new EPABX system with expandable and additional features. Existing 42U rack in the small HUB room was untidy and numbers were not assigned on any voice cables. Rack dressing was also pending since the rack was installed in this new building.
Challenge: 
Being into the media production business, there were multiple teams working on multiple projects within the same premises. Clear communication and extensive communication devices were needed with a crystal clear voice quality. Achieving this level of streamlined communication setup requires many things to be integrated into the background.
Categorization and classification of the number of cables in the background needed to be fixed to avoid emergency downtime. Doing indexing and proper tagging of all voice connections was the main root cause of this entire project. We completed this activity at an early stage in the project and streamlined it with the respective extension codes.
We had been working on this project in the live office environment conditions and all the voice lines had to be checked for confirmation. We had to also install a new EPABX system with a proper voice check.
As we had to complete this project within a strict timeline and winning customer trust for the same was a bit challenging. We got this project on urgent demand and we had to deliver this within a short span of time. We dint even get sufficient time to arrange material from our OEM. Aligning engineer for this project was a difficult task, as our EPABX engineers were already occupied in delivering ongoing projects. Tagging on the cables which were already in use and tracking this tagging was a bit difficult in the live environment.
Dependency on the user who were already using/consuming voice lines during project execution, this delay would have affected the project delivery timeline but our team did a good job in the given time.
Solution:
Started with the presentation of Alcatel Lucent's portfolio of Network Techlab and Customer Success Stories, where we had already deployed EPABX Systems. Maddock team has shown us confidence after this session and that was great support we seeked. With our reputation and goodwill in the market, we were able to arrange material and manpower before project execution, we arranged material as per project stage defined already and started working over this project.
For voice cable laying in rack, we managed the space in the existing rack space given.
We remember when we were testing all the users voice line testing, we couldn't find I/O, and hence our team had to open complete Switch Panel. We tried everything but there was no option left except we removing cables from the Switch Panel.
As we progressed towards completion of the project, we came to know that end user side cables were pending from the client's end, this also took some time. By the time we provided all users with extension numbers for their smooth working and functioning.
Between entire project timelines, our Engineers strictly followed daily reporting on time to ensure a timely delivery further numbering, labeling on all voice cables was done and we delivered project on time.
Benefits:
Customer Satisfaction was fulfilled and they appreciated the efforts of our NTIPL team.
Maddock team got a neat & clean installation at both Rack end & User end with proper Voice Cable Tie, Velcro Tie & Cable Spirals respectively on both ends.
Company enabled with a well-dressed Rack with proper numbering, labeling & project handover documents.
Proper planning and decision making helped us to complete the project within the time limits given by the customer.
Thanks to Maddock team for their appreciation about our work and kind words about us mentioned in the feedback calls with our OEM.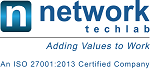 Network Techlab (I) Pvt. Ltd.
41, Sarvodaya Industrial Estate, Opp. Paper Box, Off. Mahakali Caves Road, Andheri East, Mumbai – 400093. India
P: 022-6681 4141 | info@netlabindia.com | www.netlabindia.com
Mumbai | Navi Mumbai | Ahmedabad | Vadodara | Vapi | Pune | Bangalore | Chennai | Goa | Delhi | Kolkata