Software Company revamped their structure cabling, Scaled up to offer new services.

Network Techlab successfully deployed a structured cabling project for a Leading Software Company. Streamlined the operations and provided connectivity 24×7.
Organization: Leading Software Company

Location: Pune
Domain: Software
Solution Offered: Structure Cabling Solutions
Overview
The company is a most trusted partner in the software testing industry that provides services for automation, innovation and collaboration in an open environment. Their primary focus is on Test Automation. The company has been founded with the aim to empower the testing community. The Company aims to challenge the status quo and consistently deliver ahead of deadlines their focus is squarely on ROI through Test Automation, but more importantly on ROI which is sustainable. The company can be consulting partner, whether you're looking for relevant, best-in-class Testing Practices and Release Policies or you're trying to set up a Testing Centre of Excellence- Zensoft is the answer! Not just expertise. In order to streamline their server room they decided to revamp their cabling mess-up in to clean the structured data cables system to avoid a deficit.
The Challenge:
Many unused cables were available in IT Rack, tagging was missing and there was a need of a separate ISP rack to manage this. Due to the cluttered environment and mess up of the cables troubleshooting was difficult and IT team was struggling to troubleshoot the user problems. Multiple ISP lines create cause into multiple vendor management and access client network infrastructures. Space saving is a concern due to everyday increasing services and unused cables taking too much of space unnecessarily. Cleaning up the disarrange in a given time period was challenging and expertise was required to up the network in the specified time period.
NTIPL Solution:
After looking at the complete server room, our team has decided to prepare a layout to remove the obstacle and make sever rooms as per the standards along with end-to-end fine-tuning. LAN cables were arranged as per standards and with marking on each cable inlet and outlet. Unused and unnecessary cables were removed and space has been used to prepare a bunch of cables which is required for the operations.
We created a pathway for cables of the server, Network rack to ISP with proper capping. We have checked all equipment and removed unnecessary to get space and reduce the number of racks in the server room and data center.
After a successful deployment of the hardware and cables, we prepared a kick-off plan and summary document to hand over which further can be used to know more about their infra and layout in the future.
Benefits:
IT Infrastructure and Cabling as per standard
Scope for Additional connectivity with a new cable pathway
Space Saving into current infrastructure to adopt new technology
Extensive Project deployment to better timely delivery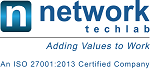 Network Techlab (I) Pvt. Ltd.
41, Sarvodaya Industrial Estate, Opp. Paper Box, Off. Mahakali Caves Road, Andheri East, Mumbai – 400093. India
P: 022-6681 4141 | info@netlabindia.com | www.netlabindia.com
Mumbai | Navi Mumbai | Ahmedabad | Vadodara | Vapi | Pune | Bangalore | Chennai | Goa | Delhi | Kolkata