Leading stock exchange of India has been successfully deployed with extensive printer over their large printing output.
Provision of printing machines to Leading Exchange of India by Network Techlab over documentation activities.
Organization –
Leading Stock Exchange of India
Location –
Fort, Mumbai – 400 001.
Domain –
Securities Exchange Market
Solution Offered –
Printer Machines –
Canon iR 2425 machine qty- 3
Canon iR 2006N qty -1
Overview –
BSE Limited, also known as the Bombay Stock Exchange (BSE), is an Indian stock exchange located on Dalal Street in Mumbai. Established in 1875 by cotton merchant Premchand Roychand, a Rajasthani Jain businessman, it is the oldest stock exchange in Asia, and also the tenth oldest in the world. Focused in the area of securities, share and commodity market which capitalize the economy with trading and investment facilities.
Being one of the prominent intuitional sector that facilitate larger aspect of Business environment often deal with excessive printing due to submission of various legal or securities related papers in respect to customers. With dual coordination of Network Techlab and stronger relations, we have been successfully won the order of printers to them and assured with best service support as well.
Challenges –
The current printer which has been installed in leading stock exchange of India led to multiple issue turning in less productivity to the Business and thus cause major problem in public issue of government papers. Improper imaging, quality not upto mark, ink dilution, less output, service issue of current service provider, over pricing of the printing hardware etc. has caused major concerns.
However, our team has effectively managed the situation by winning the requirement of them and assisted them carefully with smart and robust printing solution.
Why Innovation was required / Solutions offered –
Printer facilitates instant accessibility of document printing in any organization. Whether countable on virtual or physical paper, its has be print or convert into PDF respectively. Being one of the leading securities exchange institute of India, it has been exceptionally loaded with bunch and heap of paper in the form of invoices, legal bonds, agreements, IPO etc.
Conclusion –
Organization has been highly benefited with higher image quality of printing papers.
Has assisted to increase productivity.
Facilitated with better integrity, compliance and security in internal team.
Instant output for increasing printing quantity.
Greater flexibility.
Optimiize the outflow in the Organization.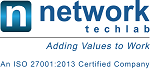 Network Techlab (I) Pvt. Ltd.
41, Sarvodaya Industrial Estate, Opp. Paper Box, Off. Mahakali Caves Road, Andheri East, Mumbai – 400093. India
P: 022-6681 4141 | info@netlabindia.com | www.netlabindia.com
Mumbai | Navi Mumbai | Ahmedabad | Vadodara | Vapi | Pune | Bangalore | Chennai | Goa | Delhi | Kolkata