One of the Leading Remittance Services Company
Network Techlab helped in Implementing Cost-Efficient EPABX Solution with Higher Scalability and Future Proof Approach.
Organization
One of the Leading Remmitence Service Provider
Location
Mumbai
Domain
Non-Banking Financial Companies
Solutions Offered
EPABX  Solution
Overview:

The company offers an attractive opportunity for Co-Lenders for "Joint-Contribution" of credit to the Borrower's which helps to De-Risk their portfolio. The Co-lending platform allows NBFCs the option to choose the Borrower's and their % share of the loan along with the other Co-Lenders.
This is an AI-driven automated process right from Borrower onboarding to loan disbursement and monitoring which helps save up to 80% of Co-Lenders operations cost.
Need for the Solution:
The company has started with its new workplace and wanted to deploy a Communication System in the office premises. The objective of the Communications System was to establish communication between Team members. They were looking for a cost-effective solution.
Challenges:

As most of the users were working from the home, they planned to reduce the costing of PRI Line which was included in the execution plan. Here they required Solutions that can be integrated with the PRI line in the coming time.
Need of Extension for Limited Users
Amidst the COVID-19 scenario, the Company was operating with limited capacity but a few team members required extension numbers and that's without a PRI Line.
Solution and Benefits:
Team Network Techlab had already suggested getting the PRI line that would help the customers to divide the extension between team members. Due to the COVID19 scenario, work from home became the new normal for everyone.  This client had reduced the budget of the PRI line yet they wanted to establish extensions between few team members.
As with the reduced cost, Network Techlab has made possible Solutions and meets the criteria of the extensions between few team members. Team Network Techlab has established an extension facility using Trunk Card. Our engineers and execution team deployed a solution that has the facility of extension and yet future-ready meaning if the client wants to upgrade to PRI line in future, existing infrastructure can be integrated easily for the specific need.
Conclusion:
Extension facility made available for our client with reduced budget.
Flexible and future ready solution deployed by Team Network Techlab that can be upgraded with PRI line with no extra cost.
Cost Savings during COVID-19 times with no impact to Project Objective.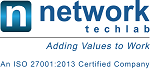 Network Techlab (I) Pvt. Ltd.
41, Sarvodaya Industrial Estate, Opp. Paper Box, Off. Mahakali Caves Road, Andheri East, Mumbai – 400093. India
P: 022-6681 4141 | info@netlabindia.com | www.netlabindia.com
Mumbai | Navi Mumbai | Ahmedabad | Vadodara | Vapi | Pune | Bangalore | Chennai | Goa | Delhi | Kolkata