One of the largest ecommerce company finished their network infrastructure project
NTIPL helps in deploying a structure cabling solution for One of the largest e-commerce company in India, reduced the risk of downtime and future expansion issue
Organisation:

Amazon Retail India Pvt. Ltd.
Location:
Pune
Domain:
Ecommerce Retail
Solution Offered:
Structure Cabling Solution
Product:
Network Infrastructure & Access Point Installation
Overview:
Amazon is known for its disruption of well-established industries through technological innovation and mass scale. Amazon directly employs people to work at its warehouses, bulk distribution centers, staffed "Amazon Hub Locker+" locations, and delivery stations where drivers pick up packages. All this Hubs and Small Warehouses have a staff who works on rotational shifts de deliver customer products on time.
Amazon was coming up with their new Small Warehouse in Pune Location and to enable this facility with a network infrastructure and other technology solution they require a structure cabling solution throughout the warehouse.
Challenge:
As this facility was newly constructed to enable all users with seamless connectivity and collaboration between the teams, they required a networking infrastructure to be established within the premises.
There were many facilities and services wires combined, unstructured way of cabling assembly might put the company at risk of downtime and could also cause the operation of the warehouse.
Physical Security, Networking and Electricity power cables were unstructured at that time and the main challenge was to make these cables in proper method i.e structured cabling based on the functionality, connectivity and length. Laying all cables in the proper tray, numbering, cable grouping was necessary to avoid any future expansion issues.
Solution:
As they were looking for the structure cabling solution, Team Network Techlab got engaged with them assisted to choose the best quality components and made them available as per the timelines shared from them. It wasn't easy to do structured cabling for 1500-2000 Sq. ft; we have provided with cable laying and granular cable management with tying and numbering. Also helped them in access point installation so that they create network infrastructure throughout the premises.
Benefits Achieved:
20 Access Points for seamless network access
14 Data nodes within premises
Uninterrupted responsive connectivity across the warehouse
Uniform access for the Internet with LAN and RDP
Structure Cabling has reduced the risk of downtime and future expansion issue.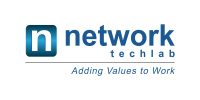 Network Techlab (I) Pvt. Ltd.
41, Sarvodaya Industrial Estate, Opp. Paper Box, Off. Mahakali Caves Road, Andheri East, Mumbai – 400093. India
P: 022-6681 4141 | info@netlabindia.com | www.netlabindia.com
Mumbai | Navi Mumbai | Ahmedabad | Vadodara | Vapi | Pune | Bangalore | Chennai | Goa | Delhi