Network Techlab deployed Document Scanner with PDF saver & unique number indexing to one of the renowned insurance broking firm.
Provision of Document Scanner with PDF saver & unique number indexing to one of the renowned insurance broking firm developed by Network Techlab by making better visibility in document accessibility.
Organization
Leading Insurance Broking Firm
Location
Vidyavihar, Mumbai – 77
Domain
Insurance Broking
Solutions Offered
Document scanning and saving as PDF with Index search as unique number given in CRM system
Overview:
The renowned insurance broking firm is incorporated in the year of 2017, spanning over 5 years for serving the insurance sector with variety of insurance products & services. It is driven by 3 directors with an aim & objective of expanding over addition of new insurance services to customers.
As the business prime focus is on emphasizing on increasing insurance services in greater term visibility in order to approach large market, there was a requirement of document scanner which can facilitate with instant PDF saver and proper number indexing, hence with successful cooperation we have helped them with their needs.
Challenges:
Being a prominent name in the broking sector, the organization has faced multiple issues as indicated below:
Size restrictions in the scanning have led to mismanagement of document scanning.
Overall output has declined due to minimum output of scanning from the current scanner.
Overheating & ink guzzling, spilling have made the work & document scanning even more delayed.
Factor of production has marginally declined of upto 35% of their overall productivity.
Managerial decisions have been effected due to late submission of non-scanned documents.
Solution:

Document scanning is a primary requirement for many organizations, especially for the scanning & sourcing of documents, accessing, retrieving and automating.
With plan in effective management and to make productivity faster, hence document scanning solution, converting into PDF made work more précised with each unique number for better indexing.
Benefits:
By deploying over our solution which has benefited them are as follows:
Time to retrieve information is reduced drastically. No need to manually search cartoons or documents.
Ease of operation.
Data is safe with Backups- No worries about document missing or damaged.
Faster response time to share data with customers and insurance company.
Opportunity to process data with solutions like DMS for audit trails and Meta data search.
Increase in Customer satisfaction.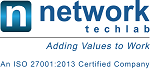 Network Techlab (I) Pvt. Ltd.
41, Sarvodaya Industrial Estate, Opp. Paper Box, Off. Mahakali Caves Road, Andheri East, Mumbai – 400093. India
P: 022-6681 4141 | info@netlabindia.com | www.netlabindia.com
Mumbai | Navi Mumbai | Ahmedabad | Vadodara | Vapi | Pune | Bangalore | Chennai | Goa | Delhi | Kolkata