Leading test automation company in pune deploys structure cabling project, achieved space saving and quality standards.
Network Techlab deployed a structure cabling project, enabling the company to achieve space saving and future expansion by reducing troubleshooting time.
Organization: The leading test automation company.
Location: Pune
Domain: Software
Solution Offered: Structure Cabling Solution
Products:
Cables
Switches
Racks
Overview
Zensoft is a test Automation Company that primarily focuses on test automation, founded with the aim to empower the testing community. The company helps organizations to square ROI through Test Automation but importantly on ROI which is sustainable. The company helps in the disruption in looming large scenarios, where organizations face severe challenges. With a focus on research and development company has many users who work tirelessly by connecting to the internet. All this required a robust foundation in the backend that is structure cabling of their infrastructure.
The company wanted to revamp their structure cabling and minimize the space required for the overall structure cabling in their Rackspace.
The Challenge:
The Company has evaluated that its structure cabling needs to be improvised for the future infrastructure that they are planning to implement. The company IT team has evaluated that there lot more space that is being unused and cables are not being connected properly to the desired infrastructure. There was no cable tagging done due to which troubleshooting has been difficult and evaluating the exact root cause wasn't possible. They were having ISP coming to their infrastructure for which they needed a segregated ISP rack, additionally, this was accessed by outside vendors due to multiple ISP coming in.
NTIPL Solution:
NTIPL structure cabling team has done complete research and designed a plan to deploy a structure cabling project. We have find out end to end existing LAN cable and done proper marking and numbering on each cable. We checked and removed unused cables and prepared a new bunch of cable which was required. We made prepare cable pathway for the server/network rack in the datacenter. This entire project was deployed by our subject matter experts in structure cabling hence there is proper documentation and sign off report submitted to avoid any future issues.
Benefits:
New cable pathway enables future expansion
Unwanted cables were removed and space-saving achieved
Troubleshooting time has been reduced significantly
Timely project delivery along with quality infra standard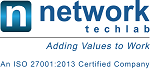 Network Techlab (I) Pvt. Ltd.
41, Sarvodaya Industrial Estate, Opp. Paper Box, Off. Mahakali Caves Road, Andheri East, Mumbai – 400093. India
P: 022-6681 4141 | info@netlabindia.com | www.netlabindia.com
Mumbai | Navi Mumbai | Ahmedabad | Vadodara | Vapi | Pune | Bangalore | Chennai | Goa | Delhi | Kolkata
Wan't to discuss your project? Contact us Today.