Leading Project and Manpower Staffing company brings operational flexibility, enables cost saving and streamlines communication within branches.
Network Techlab successfully deployed an IP PBX communication project for Leading Project and Manpower Staffing Company, Streamlined accessibility of users and provided connectivity 24×7.
Organization: Leading Project and Manpower Staffing Company
Location: Mumbai.
Domain: BPO and KPO
Solution Offered: IP PBX Communication System
Products:
Alcatel Lucent Telephones
Structure Cabling
PRI card
Overview
The company is a prominent organization for Technical manpower Staffing, Commissioning and Operation and Maintenance companies working with various industries such as in Power, Pharma & Oil & Gas. Along with this, the company also provides Manpower Outsourcing Support for project management services, Construction supervision Electrical Testing & Commissioning temporary Staffing Services whichever industry you are in, these services are timely executed as per the varied demands of our customers. The company was looking to set up IP based PBX system in their office environment to enable faster communication.
The Challenge:
The company has their new branch office at another location. Hence in order to streamline operations, they required IP PBX communication system. The company wanted to save the cost of branch-to-branch calling and to improve user experience with the intercom facilities within their infrastructure. They have found that employees need to access it whenever needed. Instead of managing separate PBX boxes at each premise, they thought of bringing operational flexibility with the unified communication system. Multiple Phone lines and systems also needed experts for management and maintenance.
As in their current infrastructure, they were using existing IP Phones they required the next batch of IP phones that will be configured with their existing infrastructure and can enable cost savings with ease of operations. As per user role they needed a variety of handphones and desk-phones.
NTIPL Solution:
Network Techlab was involved with the company's team and designed a complete architecture from DC to user space. This architecture design was presented to the company and further, we started with deploying the proposed solution. We supplied all necessary bills of material required in this project. In order to set up above discussed solution, our team has deployed IP-based Alcatel Lucent Phones and saved on the cost of an additional Tele line.
A business-class IP PBX solution that helps them with customized calling and number facility along with statistics and reporting. Network Techlab adopted an ultra-careful attitude while deploying solutions and delivered a solution within discussed timelines in order to meet operational objectives.
Benefits:
Established effective communication that promotes collaboration
IP PBX Solution gives a choice of devices for on-field and off-field employees
The individual dedicated extension enables great reach and accessibility
Enabled cost-saving with internal branch calling and delivered operation flexibility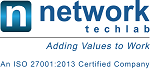 Network Techlab (I) Pvt. Ltd.
41, Sarvodaya Industrial Estate, Opp. Paper Box, Off. Mahakali Caves Road, Andheri East, Mumbai – 400093. India
P: 022-6681 4141 | info@netlabindia.com | www.netlabindia.com
Mumbai | Navi Mumbai | Ahmedabad | Vadodara | Vapi | Pune | Bangalore | Chennai | Goa | Delhi | Kolkata
Wan't to discuss your project? Contact us Today.