Leading Oil and Gas Pipeline Company Secured their Pipelines Across the PAN India
NTIPL Supported Oil and Gas Company to Protect their pipeline from Physical Security Risks helped them in Building Process Automation
Organization:
Leading Oil and Gas Company
Location:
Gujarat, Maharashtra, Karnataka, Andhra Pradesh, Telangana
Domain:
Oil & Gas
Solution Offered:
IP Surveillance Solutions
Product:
Axis PTZ Camera
Fix Camera
NVR
Video Management Software and Analytics
Overview:
The company is a wholly-owned subsidiary of India and gas transmission pipeline service supplier. Pipelines are vital component in India's national gas grid. They own and operate from Kakinada (Andhra Pradesh) to Bharuch (Gujarat) located in India. Also, they are the country's first bi-directional pipeline connected to all major pipeline hubs supply and help serve customers on a Pan-India basis. Built with a flexible design that allows future system expansion. Their customers are as diversified as Refineries, Fertilizers, Petrochemicals, Power, and City Gas Distribution.
Advanced safety systems like leak detection systems, environment-friendly fire protection systems, emergency shutdown and blow-down systems, safety instrumented systems, Fire and Gas detection systems, Pipeline Application software play a key role in ensuring safe and reliable pipeline operations. The pipeline is carefully designed to incorporate main line valves at every 30-35 km to isolate pipeline sections in an emergency.
As all the above-discussed activities were critical in nature, the company wanted to take precautions and make safety automation around the pipeline.
Challenge:
The company was having limited capacity for analytics and they wanted to renew their existing analog surveillance system to automate their workflows. As, the pipeline was loaded with natural gas and flammable gas sites on highly sensitive premises, a variety of risks were involved in this. This includes mechanical disruption, equipment failure, theft, vandalism and fire. The ware also wanted to ensure human Safety for the workers working on projects.
In a nutshell, the company wanted to ensure security measures for their workers with high-security environments as well as remote locations to keep the site protected against security threats.
Solution:
Network Techlab got engaged with the company and provided solutions based on their need. We aligned our cabling team with the respective vendors to work together and started the cabling work. We also done the installation of the camera hardware and provided an excellent dome camera of a well-known and leading surveillance brand. All these cameras were connected with switches for seamless connectivity between all the angles. While providing this solution to the company we have taken utmost care and maintained uptime.
We provided an extra backup for surveillance storage so that the company doesn't lose any important events. We enhanced the storage with optimization and save on the cost. Our solutions helped them to automate workflows in the well develop and well-monitoring process. Our experience physical security team has a strong background in delivering powerful surveillance solutions for high-security environments as well as remote locations to keep your site insulated against security threats.
In order to meet the customer's need we provided with an excellent solution which includes below.
Solution provided:
PTZ Camera – The ability to pan, tilt, and zoom allows it to cover far more space than a traditional fixed camera.
Fix Camera- Fix the Camera given to fix the view of the field inside plant area.
Recording Solution – NVR for Local recording.
Central Monitoring & Recording –Centralized camera station video management software solution given for parallel recording and live view at the Central location
Benefits:
Captures violations of security and safety regulations based on the policies
Reduces risks such as mechanical disruption, equipment failure, theft, vandalism, fire
Ensures workers follow safety protocols
Provides a clear picture of day-to-day operations
More flexibility and easier system upgrades and provision to scale cameras in future with absolutely no difficulty
Remote access for system management and control, even from far away. The operators can access live video streams at any time.
A higher image quality. The greater detail allows for more accurate analysis of a scene, avoids false alarms and ensures more timely and effective intervention.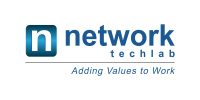 Network Techlab (I) Pvt. Ltd.
41, Sarvodaya Industrial Estate, Opp. Paper Box, Off. Mahakali Caves Road, Andheri East, Mumbai – 400093. India
P: 022-6681 4141 | info@netlabindia.com | www.netlabindia.com
Mumbai | Navi Mumbai | Ahmedabad | Vadodara | Vapi | Pune | Bangalore | Chennai | Goa | Delhi