Leading multimedia company switched to perfect Video Conferencing System, enhanced communication and save on time
NTIPL supported multimedia company to drive collaboration with Ultra HD Video conferencing solution, enhanced video experience drives better collaboration
Organization:

Shemaroo Entertainment
Location:
Mumbai
Domain:
Media & Entertainment
Solution Offered:
Video Conferencing Solution
Product:
Logitech Rally Plus
Overview:
Shemaroo Entertainment Limited is a leading Indian content powerhouse with a global reach, which has been playing a pioneering role in the arena of content ownership, aggregation and distribution. With the brand in existence for over 5 decades, Shemaroo continues to redefine itself to respond to the disrupting consumer environment. We deliver premium content experiences in more than 30 countries, across age groups and several Indian languages in genres such as movies, comedy, devotional, music, regional and kids. Today, Shemaroo has evolved to be a significant player in the digital ecosystem. The entry into the Limca Book of Records with #FilmiGaaneAntakshari on Twitter is a proof of Shemaroo staying true to its 'digital first' vision. The company wanted to go live with fully equipped Conference Room that drives faster collaboration and increases productivity.
Challenge:
The very first challenge they were facing disturbance at the time of conducting video meetings. They wanted to ensure that video meetings happening daily should be perfect and minimize hardware and software failures. A large multipurpose conference room is used to host several meetings, program rollouts and training and brainstorming sessions by the employees and leadership board. This room needed to accommodate 25-30 people and handle remote branch locations callings in to meeting with their employees and workmates. It was a difficult space because of the long area and vaulted ceiling and needed to reconfigure the room to accommodate different meeting types including presentations and meetings.
The company required a fully equipped conference room that helps in streamlining meetings. The company wanted to minimize the support from the core IT team during meetings happening and wanted to build a flexible video conferencing environment. The other issues faced by the company in the area of voice clarity and face detection while doing presentations they were unable to know who is presenting, this was leading to hurdles in the business communication.
Solution:
After listening to the challenges, our technical experts of the audio-visual solution team have done a complete inspection of the room and designed a solution for them. NTIPL team provided Logitech Video Conferencing Solution as per discussion with company personnel. Video conferencing solution provided by us has helped them in conducting trouble-free meetings and enhanced collaboration between meetings stakeholders, presenters and attendees. Logitech Rally Solution brings unmatched meeting quality with crisp clear audio and ultra HD video quality that also goes up to 4K. Rally delivers sound that's natural, crisp, and highly intelligible. Exquisitely sensitive Mic Pods ensure that everyone in the meeting can be clearly heard while stand-alone speakers fill larger rooms with rich, life-like sounds. The smooth PTZ motor adjusts pan and tilt speed with the amount of zoom, this enables [Framing] a focused zoom to the presenter who is speaking in the meeting rather than focusing on the participants. Provided solution works extremely well with all VC platforms.
Benefits Achieved:
A full proof solution helps avoid hindrances in the work process
Stand-alone speakers fill the conference room with rich, lifelike sound
Cost-Effective Solution of Logitech Video Conference System
Enhanced communication helps in time-saving and increase productivity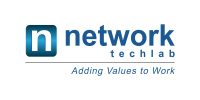 Network Techlab (I) Pvt. Ltd.
41, Sarvodaya Industrial Estate, Opp. Paper Box, Off. Mahakali Caves Road, Andheri East, Mumbai – 400093. India
P: 022-6681 4141 | info@netlabindia.com | www.netlabindia.com
Mumbai | Navi Mumbai | Ahmedabad | Vadodara | Vapi | Pune | Bangalore | Chennai | Goa | Delhi