Leading Electronic Equipment Manufacturing Company Shifts to Modern Way of Time and Attendance
Network Techlab helped in Automating the Attendance of employees and providing access to Contactless Face Recognition System
Organization
Manufacturing Company
Location
Mumbai
Domain
Manufacturing
Solutions Offered
Face Based Attendance Solution
Product
Matrix
Overview :
Hi-Fi Industries is a well-known manufacturing company of Electrical equipment such as switches, boards, Regulators and other electrical components. The company is in operation since the year 2019.
Challenge:
The Company was using the traditional biometric solution on their premises for the attendance and calculation of man-hours. This data is further consumed by the payroll team to process their monthly salaries. However, the company was facing challenges while calculating overtime for certain employees. This was resulting in to unnecessary salary deductions and fundamentally making wrong decisions. Multiple locations and a central repository of data are also required by the company as salaries were happening from one location for multiple branches.
Solution:
After checking and discussing with the company, Team Network Techlab decided to provide Face-based Time and Attendance System solutions to the company.
We provided a face-based attendance system that required minimal effort from employees and they can punch their attendance with a just simple gesture of standing in front of the attendance system.   The attendance solution which we have provided to them was a complete Indian product and comprises attendance and leave management which made their life so easy. Overtime issue which they were facing previously was completely minimized as we have compared that as per the new OT policy document and everyone is getting paid for their OT with minimum human intervention. Automation gives peace of mind.
Benefits:
Touchless Access and Facial Recognition enable more accurate attendance
Single Console Solution over a Multi-location Attendance System
OT/Attendance and Leave Management in a Single Software
No Finger Punching Required which reduces errors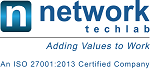 Network Techlab (I) Pvt. Ltd.
41, Sarvodaya Industrial Estate, Opp. Paper Box, Off. Mahakali Caves Road, Andheri East, Mumbai – 400093. India
P: 022-6681 4141 | info@netlabindia.com | www.netlabindia.com
Mumbai | Navi Mumbai | Ahmedabad | Vadodara | Vapi | Pune | Bangalore | Chennai | Goa | Delhi | Kolkata