Leading construction company deployed Unified Communication System, Cut the Cost and enhances collaboration.
NTIPL supported construction company to drive collaboration with next-gen EPABX system, helped in Cost, Resources and Time Saving
Organization:

Leading Construction Company
Location:
Mumbai
Domain:
Real Estate
Solution Offered:
IP EPABX Solution for Unified Communication
Products:
Alcatel EPABX System
Desk Phone
Attendant Phone
POE Switches
Overview:
The company is providing construction parts, civil engineering and work required for the whole building construction. India's leading Infra and Construction supplier company was setting up with their new office In Mumbai, hence they required the cost-effective EPABX system to be configured with Unified Communication Capabilities. The company wanted to set up the latest technology for their internal users and enhance the communication part.
Challenge:
Over an area of around 2000 sq. feet with more than 30 users and extensions to be set up with the latest technology of IP PBX. User relocation and Cost implications were major challenges considering that the initial amount of investments for the Telephone lines, cabling, switches and other infra. The existing line of LAN is to be used to setup a PBX system so that they save on the extra cablings, IO's and other ports cost. Also, there were efforts and time involved in setting up an extra cable laying which was old-time technology too.
Solution:
Network Techlab got engaged with the company and provided solutions based on their need. We aligned our EPABX team with the respective vendors to evaluate and design a complete solution for the company. We provided Alcatel EPABX IP phones for better communication and easy to use setup.The solution provided by us is futureproofed and can be useful in case of relocation of the users anytime. Phone lines are aligned with an existing LAN cable given for desktop use. There is no clutter of extra wires and the mobility-enabled solution is delivered.
Solution provided:
IP EPABX System – Better Collaboration within users with Quality Calls, Video Meetings, Mobile Workplace & SaaS Integration
Desk Phone – User-friendly, Backlit with direct transfer facility
Attendant Phone Console – Internal and external monitoring with Attendant Group facility
POE Switches – For Compute Power and Connectivity
Benefits Achieved:
Cost Saving with Single line deployment for Desktop and IP Phones
Better Collaboration along with Telephone, Video and SaaS Integrations
Richer user experience with desk phones and portability
Increased response time with new attendance console and easy conferencing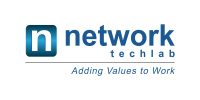 Network Techlab (I) Pvt. Ltd.
41, Sarvodaya Industrial Estate, Opp. Paper Box, Off. Mahakali Caves Road, Andheri East, Mumbai – 400093. India
P: 022-6681 4141 | info@netlabindia.com | www.netlabindia.com
Mumbai | Navi Mumbai | Ahmedabad | Vadodara | Vapi | Pune | Bangalore | Chennai | Goa | Delhi