Leading Broking Firm enhances communication through Alcatel Rainbow; follows the speed of Trading Transactions
Network Techlab successfully deployed a unified communication project for a Leading Broking Firm, Streamlined accessibility of users and provided connectivity 24×7.
Organization: Leading Broking Exchange Firm
Location: Mumbai.
Domain: Broking and Stock Market
Solution Offered: Alcatel-Lucent Unified Communication System
Overview
The company is a leading brokerage firm and provides brokerage and trading services for most of the marketplace such as NSE, BSE, NCDEX MCX, CDSL and AMFI.
The company has a combination of professional MBAs, Engineers, CAs, and traditional Business acumen. The company stands out in every aspect of its dealings with clients, right from Account Opening to trade clearing, and backend services.
The company has most of the communication over phone calls and extensive use of desk phones in the trading business; hence company was evaluating Unified communication solutions for their internal use to increase collaboration and agility.
The Challenge:
The company was using the EPABX solution which didn't suffice the need of call records management and internet-enabled calling. The company users and broker needs to be in sync and continues communicating to each stakeholder to take the trades. Creating calls using landline phones was time-consuming and outdated due to policy and compliance issues.
NTIPL Solution:
As there was a need for a modern unified communication system with features like call recording management and instant internet-enabled dedicated calling. After evaluating their needs of the solution we proposed Alcatel Lucent – Rainbow Application that solved their business needs. Continues monitoring for users who are on-line and offline happens with activity status which fundamentally helps in delivering better customer support.
Benefits:
Enhanced collaboration between internal and external users
24×7 communication and increased communication
The delivered solution enables cost-saving and remote support management
Streamlined operations and delivers a better customer experience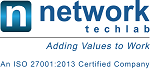 Network Techlab (I) Pvt. Ltd.
41, Sarvodaya Industrial Estate, Opp. Paper Box, Off. Mahakali Caves Road, Andheri East, Mumbai – 400093. India
P: 022-6681 4141 | info@netlabindia.com | www.netlabindia.com
Mumbai | Navi Mumbai | Ahmedabad | Vadodara | Vapi | Pune | Bangalore | Chennai | Goa | Delhi | Kolkata