Leading Stock Exchange of India Secured their Datacenter with IP Surveillance Solution
Integration with primary VMS, Saved Aprrox 18%, on Cost, Improved on the Storage Cost and Uptime
Overview:
Crafted in the 90's, Company has always stood for its reliability, expertise, innovation and trust for the last 25 years. We are talking about the multifold growth story creator and biggest stock exchange company of India.
The Company is catalyzing India's growth story by creating investment opportunities, enabling access and empowering investors to grow more. The company is working harder, smarter and faster to deliver impact across investment ecosystem.
The company holds on an average yearly Trades of more than 30,000 Lakhs, has huge premises to manage these transactions, No. people involved who regularly visit these premises. All these transactions happen without delay of milliseconds and for all these activities company has a huge Data Center of 8000 sq. feet. There was a need for a Surveillance Solution to monitor these Data Center 24×7.
In a world that changes shape by seconds, this company is constantly reinventing themselves to redefine the future, we are proud of being associated with a company and align with their goal of redefining the future.
Challenge:
Highly sensitive premises of an enterprise, Datacenter needs to be a complete surveillance proof with reliable and trusted technology brand, was the primary objective of this project. As Data Center is being accessed by many Stakeholders from different companies and Surveillance was an integral part of the Physical Security and Monitoring agenda.
At the time of the engagement, project was only few days away from its launch. As part of the Surveillance project, we need designed a complete solution right from its design to execution in these few days. Cabling and Camera Placement was a challenging job and time was less in comparison to the usual project we do. The company had already experienced hike in the setup and storage cost, in their previous projects. Considering this as a benchmark and meeting the customer's desired output was indefinite.
Solution:
We started right after we received this project. We knew that the timelines provided for these projects were impractical and unable to complete on the deadlines. Starting with project layout designing, we need to move towards cable laying for the camera. We aligned our Cabling Team with the respective vendors to work together and started the cabling work. After cabling work, we did the installation of the camera hardware on the given points in layout.
We provided dome cameras of well-known and leading surveillance brands. These entire cameras were connected with switches for seamless connectivity between all angles. While providing this solution we took utmost care of uptime because you never know when an intruder will make his move in a blackout. We provided an extra backup for surveillance storage so that company doesn't lose any important events. We enhanced the storage with optimization in the cost. Our surveillance team deployed for this project work harder to meet the deadlines of the projects, we integrated the hardware with the surveillance software and given display output as per discussion.
As this entire project was big in terms of scope of work, other vendors were also involved in most of the work. Dependability on other vendors to complete the pre required work was inevitable.
Benefits:
The company is now able to see the better quality video output.
Camera-wise – Days wise recorded storage is available for monitoring purpose.
Output Integration with primary CMS makes their life easy
The company has reduced the risk of downtime with secondary power and built-in SD Card storage feature given in the surveillance solution
Approx. 18% Cost is saved with integration with primary VMS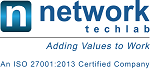 Network Techlab (I) Pvt. Ltd.
41, Sarvodaya Industrial Estate, Opp. Paper Box, Off. Mahakali Caves Road, Andheri East, Mumbai – 400093. India
P: 022-6681 4141 | info@netlabindia.com | www.netlabindia.com
Mumbai | Navi Mumbai | Ahmedabad | Vadodara | Vapi | Pune | Bangalore | Chennai | Goa | Delhi | Kolkata