NTIPL delivered hi-tech multi-color printers helping a major Ed-Tech Company based in India effectively enhance their business operations.
One of the leaders operating in the education domain based in India required a couple of highly efficient multi-color printers to keep up with their printing and scanning needs and we delivered the same along with customer satisfaction very efficiently.
Organization: Leading Ed-Tech Company
Location: Mumbai
Domain: Education
Solution Offered:2 Units of Canon Multi-Function Printer On Rent (ir3226c)
Overview
Network Techlab India Pvt. Ltd in association with Canon, which is a world leader when it comes to scanning and printing services, provided very efficient color printers on a rental basis with very flexible schemes and affordable prices to a leading company in the education technology domain.
The Challenge:
Matching the client's pricing expectations was a big challenge because the devices they required were very heavy-duty and industrial grade. Procuring them at the given price bracket from the market was also like an achievement. We had to make a lot of adjustments in the unit economics of our product and take it to a price point that would not put a strain on the client's financial budgets.
NTIPL Solution:
The Multi-colour printers that we provided have a print speed of 26 pages per minute for white, black, and color prints. In, short they are amongst the most effective products that you can get in the market at an affordable price.
Benfits:
Great Usability
Seamless connectivity
Fortified Security
Multiple functions in a single device
Amplifies work efficiency
Conclusion:
Network Techlab India Pvt. Ltd. as a business organization has set out to simplify and enhance the working operations and technology of other businesses to grow together. We have authorized partners of various global leaders in the industry and just as we can see in this case study, we have delivered a lot of other projects on a pan-India basis to a large base of clients who trust us.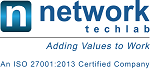 Network Techlab (I) Pvt. Ltd.
41, Sarvodaya Industrial Estate, Opp. Paper Box, Off. Mahakali Caves Road, Andheri East, Mumbai – 400093. India
P: 022-6681 4141 | info@netlabindia.com | www.netlabindia.com
Mumbai | Navi Mumbai | Ahmedabad | Vadodara | Vapi | Pune | Bangalore | Chennai | Goa | Delhi | Kolkata