Efficient and secure on-site document digitization services from NTIPL
Network Techlab enabled a law firm to effectively digitize their documents by scanning, storing, and granting them layered access to documents for easy and secure retrieval of data.
Organization: Law Firm
Location: Mumbai
Domain: Legal
Solution Offered: On site PDMS
Overview
NTIPL enabled a reputed law firm that delivers expertise in the field of law and order to clients since a long period of time, digitize all their documents resulting in effective segregation, storage, and easy retrieval. With a Printing and Document Management System in place, organizations can scan and store all of their documents electronically. This means that they can be easily searched for and retrieved whenever needed. Documents can also be password protected for additional security and can also be accessed remotely.
The Challenge:
Managing data policies: NTIPL's skilled team of experts had to deal with stringent data management policies to scan and store all the documents according to the firm's specific requirements.
Categorization of data: All the documents and data had to be sequentially categorized concerning the frequency of their retrieval and the level of confidentiality.
Classifying data as per required indexing: All the documents and data had to be organized, classified, and indexed according to the time and date of document generation.
Content search in a time-bound manner during a hearing in court: A special system had to be devised so that officials could search and retrieve sensitive data and documents quickly during a hearing in the courtroom.
Centralized access of documents: All the data and documents were access restricted with certain guidelines. All the documents were encrypted according to certain classifications so that the officials could retrieve information (data or documents) efficiently without wasting any valuable time.
NTIPL Solution:
Network Techlab Pvt Ltd helped digitize all hard copy briefs, petitions, affidavits, and agreements with high-speed scanners and a dedicated on-site team and uploaded all the digitized data and documents on a document management system. Our professional team devised document digitization solutions that adhered to our respected client's data management policies. Data encryption was done and access was granted to officials depending on their hierarchy and requirement of specific data.
Why innovation was required?
All the data was categorized keeping in mind our client's requirements to enable systematic storage of digitized documents. Officials might need to retrieve data under critical circumstances in the courtroom, hence, a special system was devised that enabled officials to look for documents matter-wise, client-wise, Location wise or Advocate wise. Also, all the data was indexed for easy viewing based on indexing parameters such as matter number, party name, location and other such parameters.
Conclusion:
Network Techlab (I) Pvt Ltd, the Mumbai-based ISO 27001:2013 certified company presents a scalable printing and document management solution that allows the efficient capture, retrieval, indexing, and management of documents and archival of information, improving the workflow of documents in small-sized or large-scale enterprises.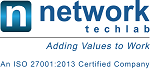 Network Techlab (I) Pvt. Ltd.
41, Sarvodaya Industrial Estate, Opp. Paper Box, Off. Mahakali Caves Road, Andheri East, Mumbai – 400093. India
P: 022-6681 4141 | info@netlabindia.com | www.netlabindia.com
Mumbai | Navi Mumbai | Ahmedabad | Vadodara | Vapi | Pune | Bangalore | Chennai | Goa | Delhi | Kolkata