Beacon Insurance Company deployed IP based PBX System. Reduced the Cost and Enhanced Collaboration.
NTIPL supported the Company for collaboration with IP PBX system, helped in Cost Saving and Ensured Connectivity 24×7
Organization:

Beacon Insurance Brokers Pvt. Ltd.
Location:
Mumbai
Domain:
Insurance
Solution Offered:
IP PBX Solution
Products:
Matrix ETERNAL
Matrix Deskphones
Overview:
Beacon Insurance has a team of professionals who have developed core competencies in the insurance sector. Started in 2005, The Company is effectively managing the insurance portfolio of a number of individuals, small medium and large corporate companies.
Working with all aspects of property, human, liability and other insurance domains. The company believes in a strong infrastructure technology facility that helps them in doing a better collaboration. An effective communication system with minimum maintenance was one of their need from technical aspects.
Challenge:
The company has its head office of around 2000 sq. feet and more than 40 users seating in the office premises. The company simply cannot afford any barrier in the communication with their internal and external stakeholders. They were looking to set up an IP PPX system to enhance the communication within their branch premises and external communication. User relocation and Cost implications were major challenges considering that the initial amount of investments for the Telephone lines, cabling, switches and other infra.
Solution:
Network Techlab got engaged with the company and provided solutions based on their need. We aligned our EPABX team with the respective vendors to evaluate and design a complete solution for the company. In order to offer a satisfactory service to the customer, we understood their requirement and designed a seamless mobility solution for them. We provided with Matrix ETERNITY EPABX Solution with Office premises extension and outstation calling facility.
We provided with a Flexible and Scalable Solution that is possible for the All supported Communication Interfaces. The solution provided by us is futureproofed and can be useful in case of relocation of the users anytime. There is no clutter of extra wires and the mobility-enabled solution is delivered.
Benefits:
Ensured 24×7 Connectivity
Better Collaboration along with External and Internal Stakeholders
Richer user experience with desk phones and portability
Increased response time with new attendance console and easy conferencing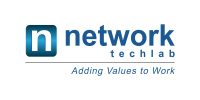 Network Techlab (I) Pvt. Ltd.
41, Sarvodaya Industrial Estate, Opp. Paper Box, Off. Mahakali Caves Road, Andheri East, Mumbai – 400093. India
P: 022-6681 4141 | info@netlabindia.com | www.netlabindia.com
Mumbai | Navi Mumbai | Ahmedabad | Vadodara | Vapi | Pune | Bangalore | Chennai | Goa | Delhi