Ambica Corporation Limited has achieved 85% increase in organizational document productivity with the assistance of Multifunction Image Printer.
Network Techlab has profoundly assisted Ambica Corporation in order to save space, cost and increase document output.
Organization –
Ambica Corporation
Location –
Andheri & Borivali
Domain –
Equipment Manufacturer
Solution Offered –
Canon A3 Color Machine iR C3120 (2 Units)
Overview –
Founded by late Mr. Bhagwandas Shanghvi in 1955, ACL's early years were inspired by the spirit of nationalism and have always believed in returning wealth to the society.
Talking about their commitment, passion and entrepreneurial spirit have only grown bigger, spurring us to look ahead achieving greater heights and this commitment has constantly fuelled the journey, encouraging us to think differently, work with passion and make things happen.
With a vast experience in equipment manufacturer and having various branches for execution, they are incurred of sharing documents, images, scanned documents and multiple scanning output and thus for making work faster and more productive, organization invested for a requirement of high end multifunction device which has extremely made the work even more précised and defined.
Challenges –
Customer pointers have been considered under following points:
Existing printer were able to manage with a single input or unit made the work too longer.
Marginal output led to delay in documentation process.
Client use to get the document and image print from outside vendors which has led to issue of time management.
Improper and inaccurate image quality of the documents.
Many a times, client has faced paper jamming in the existing machine due to non-upgradation of the printer.
Why Innovation was required / Solutions offered –
Printer facilitates instant accessibility of document printing in any organization. Whether countable on virtual or physical paper, it has been print or convert into PDF respectively.
Conclusion –
Extreme time saving factor has made the disclosure of documents even more confidential.
Paper output capacity increased for more than 300-700 sheets with inner finisher.
Contrast resolution of 600 X 600 has made the document visibility more accurate and easier.
Since it's a multi-function device, it has made Ambica Corporation multiple work as one stop point.
Proven instant output for prompt document delivery and documentation.
Saving up to 85 per cent less energy than their closest laser printer competitors.
Challenges –
Spring India often involved in multiple activities and procedures that keep on focusing their goals and productivity. In the past performance, the company has faced many challenges like heavy rainfall, load shedding, paper shifting and drafting, keeping it collaborated and segregated at folders for easy retrieve etc. Hence document scanning solution was actual became a major concern for them & thus our solution has made their paper work even more easier and accessible.
NTIPL Solution:
Today's organization are much in need of technologies over their large activities involved in the Business. Constant research and output makes the Business to go with easier and automation. Document Scanning Solution has fundamentally provided output for exclusively scanning over large data and keeping it intact for a longer period of time.
Benefits:
Facilitated them extensive search ability.
Cost effective.
Gain productivity.
Enhanced security.
Feasible accessibility.
Recovery in disaster crisis.
Alternating source of document output.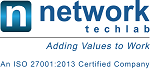 Network Techlab (I) Pvt. Ltd.
41, Sarvodaya Industrial Estate, Opp. Paper Box, Off. Mahakali Caves Road, Andheri East, Mumbai – 400093. India
P: 022-6681 4141 | info@netlabindia.com | www.netlabindia.com
Mumbai | Navi Mumbai | Ahmedabad | Vadodara | Vapi | Pune | Bangalore | Chennai | Goa | Delhi | Kolkata